Blue Ivy's Hair: Beyoncé Swiftly Shut Down Her Daughter's Critics in New Song "Formation"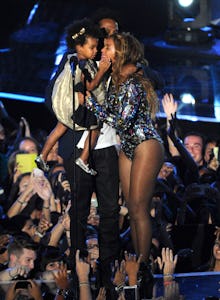 Chris Pizzello/AP
It's not usually a good look when your mom sticks up to bullies for you. But if you're Blue Ivy Carter and your mom is Beyoncé, then by all means Mom, get involved. Four-year-old Blue has been teased for her natural, "matted" hair for years by the internet. There was even a Change.org petition with almost 6,000 signatures to encourage Queen Bey to comb it — and Beyoncé shut down her daughter's haters in one swift line in her new song "Formation."
"I like my baby hair, with baby hair and afros," Yoncé proudly sang in the chorus of her first single in over a year, in which she flaunted her Alabama-Louisiana background and "Negro-Creole" roots with lyrics not only referencing her daughter's natural hair but also her "negro nose with Jackson Five nostrils."
Read more:
This isn't the first time Bey intervened in her daughter's hair scandal. In 2014, after the petition gained traction, the hip-hop mogul posted an Instagram of a comb and a handwritten note that said, "Fine I'll do it. Ya'll happy? Damn!," according to the Huffington Post. Reports that she was seen picking up hair relaxers at a drug store and had booked a salon appointment for Blue at the time led people to believe she gave into the tormenting suggestions to tame her daughter's hair. 
Beyoncé also made a point to flaunt her wealth and success in "Formation," rattling off assets like her Givenchy dress, chopper and suggesting she may just be "a black Bill Gates in the making." Essentially, the song advises the meanies not to try her — or her daughter. 
"Formation" is garnering attention from the media for sending a strong message about the Black Lives Matter movement and black heritage. "'Formation' is a booming meditation on black identity, the validity and transience of a person's roots and history and the crushing interplay between power and helplessness, agency and victimization," the Daily Beast's Kevin Fallon wrote. "Bask in it. Dance to it. Listen to it. But, for the love of god, hear it." In other words, it proves Beyonce is woke AF.
Watch the "Formation" music video below: