Who Is Lady Leshurr? Introducing UK's Queen of Grime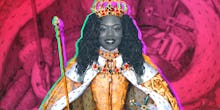 Mic/Twitter
Let's get one thing clear — it's not pronounced "Lady LaShore" or "Lady Lesh-Are," U.K. rapper Lady Leshurr's stage name is properly pronounced "Lady Lee-sha." Nothing else about Lady Leshurr is proper, however, from her fiery viral rap verses to her controversial digs at pop culture.
"I want to be on top," Lady Leshurr told Mic. "I want to start a female movement. I'm all about female empowerment, so I want to be the first from the U.K. to bring my sound to America and build a team of female rappers, producers, songwriters and musicians. ... I want to be globally known."
It's been quite a wild ride for the Birmingham-based Melesha O'Garro. She gained a major boost in late 2015 when the fourth video in her "Queen's Speech" rap series became a critical and viral success on YouTube — currently, the clip has nearly 21 million views.
Read more:
Since then, Lady Leshurr's "Queen's Speech Ep. 4" has been featured in a Samsung Galaxy commercial and "Queen's Speech Ep. 3" was used during fashion designer Alexander Wang's spring 2016 show. Her songs' high-profile appearances have taken her overseas for her first headlining performance in New York City in February.
"'Queen's Speech [Ep.] 4' is my best one because it transcended in America and Europe and connected with all ages, races and culture," Lady Leshurr told Mic. "I didn't realize writing and coproducing it at the time how much effect it would have on people, but I definitely think it's the best one I've written, and it changed my life and career. It's crazy how many people did remixes too, even Busy Signal did a remix but it never got released. The main thing I love is that it's grime music — a British genre — to hear Americans doing their own version to it is crazy!"
British grime originated in the early 2000s, with deep-rooted origins in illegal radio stations called pirate stations — from Deja Vu FM, Rinse FM, Flex FM to Freeze FM and Axe FM — all hosted in high-rise apartment complexes throughout London, according to MTV. The music is an eclectic, all-in-one mix of Jamaican dancehall, American hip-hop and British garage and jungle music. 
The lyrics typically focus on contemporary issues facing the Millennial generation, and the genre has been co-opted by a number of non-U.K. artists for their latest releases, including the likes of Kanye West and Canadian rapper Drake, so it's no surprise that British grime has found fans stateside. 
The 27-year-old rapper took to Gramercy Theatre in New York City on Saturday night and lit the stage on fire, energetically dancing around, crowdsurfing and rapping some of her best-known verses offstage with fans. After the concert, Lady Leshurr took to the crowd for pictures and autographs.
"I never thought that many people were going to show up!" Lady Leshurr told Mic. "I was so shocked but overwhelmed by the love. I mean, I'm from Britain. These guys were screaming like a legend was on stage. They were singing my lyrics in an American accent! It was all a bit mad for me to be honest. I remember there was a point on stage when I started laughing because realization hit me. Thinking back is bringing tears to my eyes. ... I still can't believe I'm this well-known in New York."
It wasn't always easy for the multitalented entertainer. The rapper was forced to turn down a major record deal with Atlantic Records in 2013 after she found out the sole purpose of her contract would be to eliminate another female rapper. Atlantic Records told Leshurr she'd be pitted against American rap powerhouse Nicki Minaj, and the label was hoping to undermine Minaj's career.
"When I started meeting people in the industry with negative energy and cruel intentions, it kind of put me off wanting to be involved in music," Leshurr told Mic. "That was never what I wanted to take part [in] in the first place."
"I've had a lot of people come in and out my life for reasons that benefit themselves only," Leshurr continued. 
During her New York concert, the artist was even rather candid with fans, performing a freestyle verse in which she described countless struggles she faced with her previous management. "I've been in an all-time low where I decided to quit because I started music due to it being fun and enjoyable," she said.
"I guess the only way I keep sane is reminding myself I'm human, and to always have fun with it."
Lady Leshurr puts a meta spin on British grime, interspersing memes and controversial pop culture references throughout her raps. Nothing is off the table either; from Rachel Dolezal's fall from grace after being accused of lying about being African-American to Caitlyn Jenner's transition to womanhood. Leshurr isn't lambasting those popular figures; her music is hyperaware of current events, and she's connecting international audiences by highlighting the headlines we all read on a daily basis.
Her finger remains on the pulse of pop news. Her lyrics are always controversial, her verses always fire. With an upcoming tour through the U.K. in March and an album set for release in 2016, this might just be the year Lady Leshurr becomes an international rap icon. 
So, make sure you get her name right.