Jazmine Sullivan Says It's an Injustice Black Artists Don't Enjoy Adele's Level of Success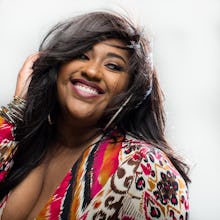 Jazmine Sullivan has a voice powerful enough to bust the windows in a car and turn lions, tiger and bears to weeping cubs. She knows it too, as do the Grammys. Heading into Grammys night, Sullivan is up for three awards, including best R&B song and best R&B album. But while the noms are heartening nods, they don't even begin to approach the levels of celebration other R&B artists have received of late — specifically, singers with lighter skin. 
Adele's 25 broke nearly every record in the book in November, becoming the patron saint of soccer moms everywhere. Sam Smith became a household name in 2014 off a few ballads of middling quality. Sullivan, on the other hand, is still a relative unknown to anyone not tapped into the R&B world. And she's not entirely thrilled about this discrepancy.
"I guess I'm glad that people are recognizing me in some way, and kind of see there's a little injustice in how black soul artists are received," Sullivan said in a recent interview with the Associated Press. "But, at the same time, I try not to focus so much on the negativity." 
Sullivan is keeping her head up — not exactly an easy thing to do when Adele is singing Sullivan's same style of soaring ballads and getting her face plastered everywhere. 
Unfortunately, this kind of black erasure in the popular music is nothing new. White artists have been stealing (or borrowing, appropriating, call it what you will) black musical genres and turning it around for a bigger return for years. Essentially every popular genre we enjoy today was pioneered by black artists. Elvis Presley whitewashed rock 'n' roll for mass consumption. Frank Sinatra stole the wind right out of the sails of black artists of the era, such as Nat King Cole, Billy Eckstine and Count Basie.  
Most recently, fans have called out white rappers like Macklemore and Iggy Azalea for picking and choosing elements of hip-hop culture to repackage for sale to white audiences. Macklemore himself analyzed this privilege on his latest single "White Privilege 2," "The culture was never yours to make better/ You're Miley, you're Elvis, you're Iggy Azalea" — a line Azalea took as a diss, rather than a statement of fact.
White artists selling better than black artists is an endemic and unfortunate reality in music. In 2013, not a single black artist topped the Hot 100, though all the white artists that did utilized historically black styles of music. Adele borrowed from heavily R&B and soul to do the same in 2015, singing what critics have labeled "blue-eyed soul." 
Back in January, R&B singer K. Michelle echoed some of Sullivan's comments, arguing that if Adele was black, no one would be checking out her music. "'Hello,' that's some bullshit, sorry," Michelle said of Adele's record-breaking single. "It's a great song, great artist, but if a black girl was to sing that very song, it would not get played on the radio."
She may be right, and a look at Jazmine Sullivan's career offers some pretty damning evidence. Sullivan recorded some of the most powerful and soulful pop rhythm and blues in recent memory. While several have broken into the top five on the R&B charts — including 2008's "Need U Bad" and 2010's "Holding You Down (Goin' in Circles)" — none of them have even cracked the top 30 on the Billboard's main pop chart, the Hot 100.
As it stands, Sullivan's fans "may not be as many people who listen to Adele," as she told the AP. "There are people who are listening. There are people who appreciate me. There are people who love my music."
Those people know real, soul music when they hear it. Perhaps a hat trick at this year's Grammys will help that circle of fans grow. Adele's 25 missed the deadline for submissions, so Sullivan has a far greater chance of getting a moment in the spotlight. It's unfortunate that Adele will have to be absent for that to happen.