There's a Reason This Trans Man and Former Beauty Queen Wants to Show You His Scars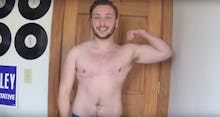 At Ashton Colby's final beauty pageant in late 2011, where he was competing for the title of Miss Ohio 2012, he lost. As the pageant closed, he cried in his dad's arms and lookers-on believed that he was weeping for his lost title. But Colby was weeping for a much different reason. That pageant would be his last. 
Colby ended his run on the pageant circuit to pursue something even more important to him: his transition to male. At first, his family didn't understand his decision. 
"I had everything that anyone would ever want in the sense of ideal femininity," Colby told Mic. "Everyone around me telling me my body was good as it was — that wasn't the definition of happiness for me." 
If Colby could display ideal femininity, he hoped, then he could be happy with his assigned gender. But that wasn't the case. 
"I tried to do those pageants as a way to force down those feelings," he said.
Colby would begin his transition to male six months later, in early 2012, with the full support of his family. A year later, he had surgery on his chest. And with that surgery came his scars. 
"I was hoping my scars faded," Colby said. "I didn't want any visible scars at all. But that's not what my body did and it's not what everybody's body does." 
Colby said he didn't want visible scars because he didn't want to be reduced to his surgery, which he felt was a common narrative for trans people. 
"There's a lot of focus on the surgery, but it's like 'Did you have it?' and if you did it's like 'OK, you're good, you're a complete trans person," he said. "There's an idealized version of what a trans person is." 
Colby said media narratives on transitioning usually present the process as an A-to-B narrative centered on surgery. In his opinion, reducing trans people to their surgeries and their body parts makes it easier to see them as less-than-human. 
"It's easier to perpetuate violence against something you don't see as a person, someone you see as a surgery or a body part," he said. 
The numbers back this up. 2015 was the most violent year on record when it came to trans violence, the vast majority of it against trans women of color. Transgender representation in the media still has a long way to go, even if it seems like we see more trans stories than ever. Laverne Cox has starred in three seasons of Orange Is the New Black and has covered TIME magazine with the headline "The Transgender Tipping Point." Caitlyn Jenner covered Vanity Fair looking feminine and glamorous. 
"I was overwhelmed with the prospect of surgeries and what people would make me do when I came out [as trans]," Colby said. But he found comfort in other people who shared their journeys publicly, and he knew that he could be that beacon for someone else, as well. "I found myself through seeing peoples' authentic journeys, and I had to share that."
For Colby, what he expected to be a source of shame became a badge of pride. He created a YouTube channel dedicated to sharing his story with others.
And share he has. His videos tackle feeling sexy, coming out, depression and more. He's recently garnered lots of attention for a video he shared that documents his entire journey from beauty queen to proud trans man. 
In the video, he shares the story of his three-and-a-half year transformation, addressing the camera directly.
"This is my body," he said. "This is the vehicle, the vessel that holds my soul. It has evolved and changed so much over the last couple of years. I forget sometimes that this is my body, and I have to remind myself that this is just the beginning. That there are more changes to come." 
Colby's transformation video echoes his feelings on being trans: His journey is unique. He chose to share his journey as a pageant queen only recently to show people that not everyone who starts to transition is traditionally masculine at first. 
"A lot of society takes the narrative that you're masculine and you transition and it's not a surprise, but a lot of people do the opposite," he said. "They try to live up to those expectations and there's a lot of pressure." 
Now that Colby has shared his scars with the world, he hopes that when others notice, they know that they are a part of his journey.
"This is something that shows I'm trans," he said. "I've gained so much empowerment from being visible."
Watch Colby's full video here: