Here's What Peyton Manning Had to Say About Cam Newton's Quick Postgame Interview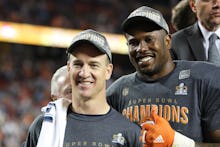 Gregory Payan/AP
After a 24-10 loss to the Denver Broncos at Levi's Stadium, Carolina Panthers quarterback Cam Newton kept his post-game comments brief. When asked about his thoughts on the disappointing loss, Newton told reporters that his Panthers were just outplayed. 
"They just played better than us," the 26-year-old quarterback said, according to ESPN. "I don't know what you want me to say. They made more plays than us, and that's what it comes down to. We had our opportunities."
On what led to the Carolina Panthers' loss, Newton said, "It wasn't nothing special that they did. We dropped balls, we turned the ball over, gave up sacks, threw errant passes. That's it. They scored more points than us." Newton had little to say after that, shaking his head and saying, "I'm done, man."
Read more:
Many football fans took the football player's disappointment as classlessness, voicing their opinions on social media. 
However, Denver Broncos quarterback Peyton Manning saw things differently.
"I'll tell ya', Cam couldn't have been nicer to me," the 39-year-old athlete told TODAY Monday morning. "He was extremely humble, congratulated me, wished me the best. I told him just congratulations on his outstanding season, and just what a great future he has ahead of him. He'll be back in that game, I can promise you."
Despite the brusque press conference, Manning, the oldest quarterback to ever win the Super Bowl according to Sports Illustrated, told TODAY that Newton "was extremely humble, congratulated me, wished me the best."