Who Is Tina Knowles? Beyoncé's Mother and How Her Creole Roots Influence Bey's Career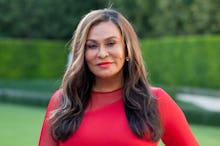 Allen Berezovsky/Getty Images
Before the Beyoncé empire rose to power, her mother, Tina Knowles Lawson, built a successful career that, in part, pays tribute to her Creole roots. Born Celestine Ann Beyincé, the mother of two is widely-known for her work in the fashion industry as a designer and has successfully launched two lines — Miss Tina and the House of Deréon, the latter of which she launched with daughter Beyoncé. With a net worth of at least $20 million, according to the Richest, the 62-year-old has excelled as a business woman. Here's what we know about the woman who gave us Beyoncé. 
Read more:
Knowles Lawson and Beyoncé's mother-daughter fashion label's name is a tribute to Agnèz DeRouen/Deréon, Bey's grandmother. Deréon, a Louisiana native, was Creole and a self-taught seamstress. 
Early on in Beyoncé's rise to stardom, Knowles Lawson did costume design work for Destiny's Child. "I grew up in a fabric store," Beyoncé told CNN in a 2011 interview alongside her mother during London Fashion Week. 
"[M]y mother would say: 'Come on let's go to the fabric store,' and she would make all of these beautiful clothes for myself and the other ladies of Destiny's Child, and after so many years my fans said we want to buy these clothes somewhere, so it was a natural thing for us to do this line, and it's so great for us to be able to do it together, number one because we get to spend time together, and two because we have such respect for each others' taste."
According to Bey, her mother is a source of inspiration to her. "My mother's gift is finding the best qualities in every human being," Beyoncé has said of her mother.
In 2011, Knowles Lawson divorced long-time husband and former Destiny's Child manager Mathew Knowles, and has since remarried famed American actor Richard Lawson. In June, Ebony published an interview with Knowles Lawson in which she opened up about her life, personal relationships and career. Perhaps the most important takeaway from that interview is that it underlines a key challenge for Knowles Lawson: maintaining a degree of autonomy and ownership over her own success in spite of her family members' many achievements. 
"While snuggled under chenille blankets and gazing out at the spectacular view of Hollywood from her home, Knowles Lawson details the major phases of her life that include mothering a global phenom and her multifaceted fashionista sister," Ebony's Kierna Mayo wrote to tease the interview. "Most important, she says, she's doing all this while still living her own damn life."
The subject of Beyoncé's genealogy has been picked apart in the past, considering the artist's degree of fame. And the powerhouse singer's lineage, particularly on her mother's side, has made its way into the recording artist's work. In 2006, the artist released one track titled "Creole," which lives on Beyoncé's sophomore studio album, B'Day. Most recently, on Saturday, Beyoncé surprised fans by releasing "Formation," a politically poignant cut that she performed during the Super Bowl 50's halftime show on Sunday. 
The lyrics of "Formation" touch on the Beyoncé's family origins, particularly the singer's Creole ties, which is typically described as a mélange of French, African and Caribbean cultures.
According to the Creole Genealogy and Historical Association, a nonprofit organization, the term Creole dates back to France and Spain's colonial expansion in parts of North America and the Caribbean, and can be used to describe people born in New France and New Spain. According to the organization "[t]hose modern-day persons who can claim Creole heritage include whites, blacks and mixed-ethnicity people.
"My daddy Alabama, Momma Louisiana," Bey sings on her latest release. "You mix that Negro with that Creole make a Texas bama/ I like my baby hair, with baby hair and afros/ I like my Negro nose with Jackson Five nostrils/ Earned all this money but they never take the country out me/ I got a hot sauce in my bag, swag."
On Monday, Beyoncé delighted fans by announcing the upcoming Formation World Tour, tickets for which will go on presale Tuesday.