Is Beyoncé Performing at the Grammys? Here's What We Know About Bey's Plans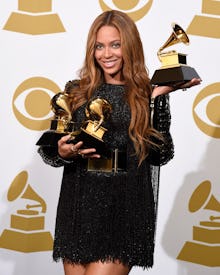 Chris Pizzello/AP
With the 2016 Grammy Awards just around the corner and Beyoncé fresh off the drop of a new song and a powerful Super Bowl performance, fans may be wondering if Queen Bey is planning a surprise appearance at the awards show. 
While Beyoncé is not officially on the schedule of Grammy performers this year, the list has been growing and growing. Last week, the Recording Academy announced several new additions to the show's lineup, including Justin Bieber, Diplo, Skrillex, Chris Stapleton, Pitbull and Gary Clark Jr. Previously announced performers include Adele, Ellie Goulding, the cast of Broadway's Hamilton and Lady Gaga, among others.
Read more:
Beyoncé isn't nominated for any Grammy Awards this year, but she's racked up plenty of wins at the Grammys over the course of her career. She and husband Jay Z are basically music industry royalty at this point, and if they didn't show at this year's awards show it would leave a hole the size of Houston.
A surprise performance from Bey also wouldn't be out of the question — last year, at a Grammy tribute to Stevie Wonder, Beyoncé joined singer Ed Sheeran for an unannounced appearance.
So far, Bey's team has been quiet about any Grammy plans, but everyone knows that Beyoncé is an expert when it comes to surprises. With many speculating a new album could drop any day now, it would be a perfect time for Bey to steal the show at the Grammys. The 58th annual Grammys will air on Monday, Feb. 15 at 8 p.m. Eastern on CBS.