The BeyHive Had Their Weaves Snatched By Beyoncé's "Formation" Super Bowl 50 Performance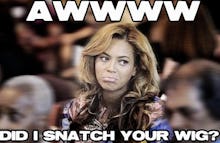 Mic/Twitter
Beyoncé stole the show during Sunday night's Super Bowl 50, and snatched some weaves in the process. After surprise releasing her latest single "Formation," Queen Bey performed with Coldplay and Bruno Mars in arguably one of the best Super Bowl performances in recent history. 
Of course, Beyoncé's online "BeyHive" fandom was prepared for new music from the singer, but nobody was ready for the grandiose performance Sunday night. Fans shared how quickly their edges, weaves and wigs were snatched from their scalps. 
Read more:
Between the announcement of her Formation World Tour, powerful lyrics focusing on social justice movements and racial equality, as well as the sexually charged Red Lobster innuendos, it seemed as though there wasn't a single Twitter user with a weave left in tact:
Some were even afraid Queen Bey would end her performance early in order to come around and snatch up any newly grown hair:
Others noted Bey had shown her fans where she keeps all of her snatched up wigs and weaves when she released "Formation" Saturday afternoon:
We're just hoping Beyoncé gives us enough time to at least order new hair before she drops another single, or even better — her next album.