Who Designed Beyonce's Outfit for the Super Bowl Halftime Show?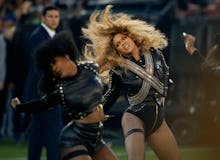 Matt Slocum/AP
Beyoncé's presence filled up the entire stadium and internet during her Super Bowl halftime show performance — and her custom-designed DSquared2 militaristic outfit and Christian Louboutin boots contributed a lot to the hype. Many speculated it was a tribute to the late Michael Jackson's 1993 Super Bowl halftime costume. While that part's not confirmed, the outfit completely slayed.
"We love Beyoncé and wanted to create something where she resembles a warrior leading her female posse who fall into formation," the DSquared2 designers wrote in a statement, according to Fashionista. Beyoncé wore a custom-designed leotard and warlike leather jacket. 
Read more:
The designers behind the 20-year-old label DSquared2 are identical twins Dean and Dan Caten, who've designed iconic outfits for celebrities including Britney Spears, Madonna, Rihanna and Ricky Martin, Pret-a-Reporter reported. The brand opened several retail locations in 2015 including a spot in Miami and one in London. 
Dan Caten told Pret-a-Reporter in 2015 that the two preferred working with musicians over celebrities in other industries. "I think music is probably the world we're more attached to even than film," he said. "We grew up with a lot of brothers and sisters and a lot of different types of music. It's a big inspiration for us. We feed on it, and it evokes a lot of emotions and memories." The Canadian duo also designed Bey's intricate outfits for her 2013 Mrs. Carter World Tour.
Beyoncé's entire performance Sunday was full of black symbolism — starting with her new song "Formation," in which she touts her "negro-Creole" heritage, and her dancers' outfits, which were a tribute to the iconic Black Panthers. Furthermore, Beyonce has said Jackson was a major influence on her career. "Michael Jackson changed me, and helped me to become the artist I am," she wrote on her website five years after his death.
If Beyoncé's intention was to tribute Jackson, she was spot on:
After her blowout halftime performance, Bey subtly announced a forthcoming "Formation" world tour in a brief message that flashed on the screen before a commercial break. Being that DSquared2 was her designer for the Mrs. Carter tour and her highly-praised Super Bowl outfit, it's possible that the pair will design her gear for the upcoming tour. Pre-sale tickets go on sale Tuesday. 
Correction: Feb. 8, 2016
A previous version of this article misidentified Dan and Dean Caten as Italian. The designers are Canadian, and their fashion brand, DSquared2, is made in Italy. The article also incorrectly stated that DSquared2 opened a retail store in Los Angeles in 2015. The Los Angeles store opened in 2014.