Yeezy Season 3: Photos and First Look at Kanye West's Latest Clothing Line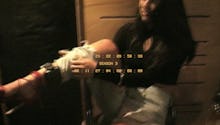 YeezySupply
Rapper and fashion designer Kanye West is continuing to confuse fans ahead of his multi-release event in New York City on Thursday, when the artist is supposedly dropping his yet-to-be-named album as well as the third edition to his clothing line. Though it remains a mystery what the album will sound like and how the latest clothes from Yeezy Season will look, fans are starting to find clues. 
"It was always a dream to have a listening party at Madison Square Garden," West wrote on Twitter Thursday. "It was always a dream to show my collection at Madison Square Garden. On February 11th these dreams come true."
Read more
"The trap life chose me cause I have to fuck with a monitor on my ankle tonight," says an unnamed model in a short slow-motion teaser in a new video posted to Yeezy's website. 
Fans of West and his wife, reality TV star Kim Kardashian West, are finding notes of the Season 3 line in the couple's recent outfits. Kardashian West recently attended a studio session with daughter North West, both seemingly wearing Yeezy Season 3 supply:
It appears as though the Yeezy Season 3 collection will have some new staple pieces, hopefully including the drooping black fur coat Kardashian West has effortlessly wrapped around herself in the above photo. 
It seems the line will mainly portray an uncanny resemblance to the first and second editions of Yeezy Season, which features monochromatic outfits, see-through sheer and tight-fitted color ways. The rapper also uploaded a series of photos supposedly from his forthcoming third line on Twitter Monday night:
West himself has been seen stepping out in rumored official Yeezy Season 3 gear, though it isn't entirely clear whether his jackets have been made custom or if they'll appear in his latest collection. Most recently, he was seen wearing a green bomber jacket with the phrase "Season 3" inscribed on the back:
Still, fans are eagerly awaiting the release of Yeezy Season 3, and anticipating whatever surprises West might have up his designer sleeves. As for his forthcoming album, however, it's becoming frustrating to follow the naming process: