This Sikh Actor and Designer's Beard and Turban Got Him Booted Off a Flight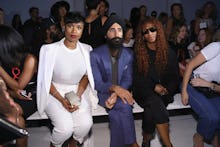 There are a lot of negative aspects of flying: turbulence, bad food, screaming babies. Oh, and rampant racial profiling and Islamophobia. 
This is true even for jewelry designer and actor Waris Ahluwalia, whose fame didn't help him dodge Islamophobia. Ahluwalia is not Muslim - he's Sikh and he wears a turban, a headdress that's part of his religious identity. Ahluwalia reported on Instagram Monday that Aero Mexico would not let him board his flight to New York City while wearing his turban.
"This morning in Mexico City I was told I could not board my @aeromexico flight to NYC because of my turban," Ahluwalia wrote. He accompanied the post with the hashtags #FearisanOpportunitytoEducate and #lovenotfear. 
This is not Ahluwalia's first rodeo when it comes to controversy around his appearance. Ahluwalia was the first Sikh model in a national Gap clothing ad, and not long after his ads began running, one New Yorker scribbled over the poster's "Make Love" slogan, changing it to "Make Bombs." 
Why all the hate against Sikhs? Sikh Americans are often mistaken for Muslim Americans and have also been the victims of several anti-Muslim attacks since 9/11. The recent wave of Islamophobia has also led to an increase in anti-Sikh violence and rhetoric. 
Ahluwalia followed up his initial Instagram post with another one to tell his New York Fashion Week friends that he would eventually make it to his seat by the runway.
Let's hope people can get past their prejudices and Ahluwalia's flight can leave the runway — so he can get to his runway.