What Is the Average Age of Marriage, and Why Does It Seem Like Everyone's Getting Engaged?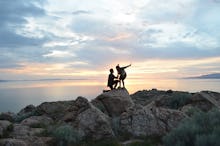 Pixabay
The engagement wave attacks when we least expect it. One minute we're getting our braces off and practicing our first kiss with the pillow, and the next, engagement announcements are flooding our Facebook feeds. Contrary to that inexplicable and overwhelming phenomenon, the average age of marriage for both men and women has risen fairly consistently over the past several decades, according to the United States Census. 
In 2015, the median age that men and women had their first marriage was roughly 29 and 27 respectively, an all-time high, according to annual Census records dating back to 1890. Both men and women have been waiting longer to get married since around 1960, according to the Census stats, when men got married by roughly 22 and women by roughly 20.
Read more:
While people are waiting increasingly longer to get married, that doesn't necessarily mean we're paranoid for thinking everyone around us is putting a ring on it. As the median age of marriage has gradually increased, our expectations for when people should get married has likely aligned with the stats. Feeling like you're the only one who isn't married at age 28 in 2015 is probably on par with the feeling an unmarried 20-year-old had in 1960. With the pressure of our biological clocks "ticking," it's arguably worse. 
Why are people getting married later? There's no single, concrete reason, but several theories exist. Cohabitation has been a rising trend since the mid-20th century, according to the National Bureau of Economic Research. Couples are choosing to live together for a period of time to test their relationship before legally binding themselves to each other. 34-year-old Sarah Barton told the Atlantic she lived with her husband for several years before committing to marriage, a strategy her parents didn't understand. "They didn't like that or approve," she said. "But for my younger cousins and family members I strongly encourage it." 
74% of millennials surveyed for a Allstate/National Journal Heartland Monitor poll on Americans feelings about marriage said they still think it's a meaningful institution, according to the Atlantic, but they're doing it differently than their parents did. Barton told the magazine she waited to be more confident. "I think when you're a little bit older you're more comfortable and self-confident, and therefore are more comfortable and self-confident in your marriage," she said. "From my experience it was helpful to be in my mid-twenties. My mom got married when she was 19."