Hugh Jackman Gave His Fans One Good Reason to Wear Sunscreen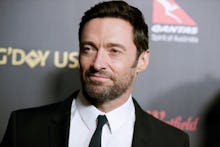 Hugh Jackman has a public service announcement for his fans: Wear sunscreen. 
On Monday, the actor posted on Twitter a photo of him with a bandage on his nose, showing followers he knows about the dangers of sun exposure all too well. Jackman wrote, "An example of what happens when you don't use sunscreen. Basal cell. Mildest form of cancer. USE SUNSCREEN PLEASE!!"
If this photo is indeed a recent one and not from one of Jackman's previous bouts of skin cancer, it will reportedly be the fifth time the actor has gone under the knife for skin cancer. Since November 2013, Jackman has had three other such growths removed from his nose, and one removed from his shoulder, according to Entertainment Weekly.
In May, a 27-year-old nurse in Alabama broadcast a similar warning when she shared the results of the treatment for her own basal cell carcinomas. The woman had used a tanning bed four to five times a week as a teen, and urged others to think twice before getting into a tanning bed themselves. 
Read More: Tanning Beds Could Be Banned for Minors, but Here's Why We Should All Stop Using Them
In 2015, Jackman told People magazine about his wake-up call. "It's always a bit of a shock just hearing the word 'cancer,'" he said, adding it was his makeup artist who first noticed the suspicious growth on his nose. The actor chalked it up to a scratch from the claws he wore to play Wolverine in the X-Men installment he was shooting at the time. When it didn't go away, he saw a doctor who diagnosed the spot as a basal cell carcinoma.
Thankfully, basal cell is among the least dangerous of the four forms of skin cancer the American Academy of Dermatology lists. "I go every three months for checkups," Jackman told People. "It's the new normal for me. My doctor says I'll likely have more and if that's your cross to bear in life, you should be so lucky." 
Still, Jackman wants everyone to slather on that SPF. And are you really going to say no to this guy?