Beyoncé Rejects Coldplay Song "Hook Up," and Twitter Users Like Her Even More for It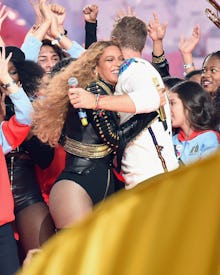 Jeff Kravitz/Getty Images
After Coldplay, Bruno Mars and Beyoncé tore up the stage for one of the most memorable Super Bowl performances in recent memory, Coldplay frontman Chris Martin remembered the time he presented a song to Queen B called "Hook Up."
After listening to the track with her producer Stargate, the superstar ultimately turned the song down, Martin told Rolling Stone in an exclusive interview published online Monday. "In the sweetest possible way: She told me, 'I really like you, but this is awful,'" Martin told Rolling Stone. 
Read more:
Twitter users went online to voice their thoughts on Queen Bey rejecting the music band's song. 
Beyoncé isn't the first to turn down a song from the band.  Will Champion, drummer for Coldplay, told NME that the late singer-songwriter and actor David Bowie had rejected their request for collaboration on a song.
After Chris Martin wrote the late singer a request to join in on a potential song with a multi-part harmony, Bowie responded, "It's not a very good song, is it?," Champion recalls on NME. 
"He was very discerning," Champion continued. "He wouldn't just put his name to anything. I'll give him credit for that."
The interview also discussed how Martin copes with the criticism his band sometimes has to endure. "I had a couple of years in the mid-2000s where it was really confusing to me," Martin told Rolling Stone regarding his band's status as a joke for some critics. "I was like, 'Why is our band sometimes a punch line?'"
According to NJ Advance Media, Martin is good friends with Beyoncé and her husband, Jay Z, which made the halftime performance a collaborative effort between friends. The singer teamed up with Coldplay in the past on their most recent LP, A Head Full of Dreams, on the song "Hymn for the Weekend."