An Iranian News Director Was Caught on Tape Asking a TV Anchor to Have Sex With Him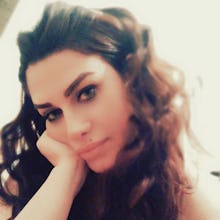 The news director of Iran's Press TV, Hamid Reza Emadi, has been caught with his pants down. Almost literally. 
Sheena Shirani, one of the company's news anchors, made public on Thursday ample amounts of evidence to support her recent claim that she was repeatedly sexually harassed by Emadi — a plight numerous superiors allegedly subjected her and other female colleagues to.
Recordings of telephone conversations, messages and pictures, all posted to Facebook, paint a picture of systematic harassment persisting over years. Shirani, a 32-year-old single mother, began working at Press TV in 2007. 
Iran Wire translated portions of the recorded conversations between Shirani and Emadi, the recordings of which she posted via media outlet Rooz Online's Facebook page:
Shirani: I'm angry with you.
As part of her exposé on Thursday, Shirani posted screenshots of Whatsapp and Facebook messenger conversations between the two. 
Immediately following, Shirani allegedly began receiving private messages from Emadi, imploring her to take the posts down — which she proceeded to take screenshots of and publicly share as well.
After receiving some distasteful feedback from other colleagues, Shirani discussed in another post why she handled the alleged abuse and harassment the way she did, explaining she was particularly vulnerable as a divorcée and single mother in Iran. 
Emadi vehemently argued the recordings and correspondence were all counterfeit in a message written in Persian and threatened to legally pursue anyone who shared the material, claiming he would be aided by Interpol, an intergovernmental, international law enforcement agency, according to Iran Wire. 
The Wire also reports Shirani and her son have fled the country and are choosing not to disclose their whereabouts, close friends told the publication. 
Since Shirani made the scandal public, Emadi has disabled his Facebook account. He and Press TV studio manager Payam Afshar, another employee implicated in the harassment, have also been suspended. 
However, many eagerly await the next steps as this affair becomes a prototype of sorts for official responses to sexual harassment in Iran, a country which — since the 1979 revolution, which transformed it into an Islamic republic — has in many ways relegated women to second-class citizenship.
Get the five stories that will challenge you to rethink the world by signing up for MicCheck Daily.