7 of the Best John Legend Love Songs That Aren't "All of Me" or "Ordinary People"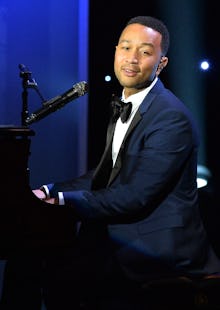 Earl Gibson III/Getty Images
R&B artist John Legend has produced a plethora of romantic songs that tug on our heart strings like no other. His biggest hits like "All of Me" and "Ordinary People" are likely the first songs that come to many people's minds when they think of the best love songs by Legend — but while they're arguably two of his most popular, and one of them starred his wife Chrissy Teigen in the music video, they're not necessarily Legend's best love songs. 
Read more:
Here are seven of the best John Legend songs to spice up your love life — or just make you cry hysterically into a box of kleenex and call it a day:
"Made to Love"
Legend truly plays on our heartstrings in this one about a love two people were literally born to experience — it doesn't get more intense than that. This live piano version he performed for a Spotify session in Milan is particularly decadent.
"Open Your Eyes"
Legend's cover of this old-school Bobby Caldwell love song invites someone to love like they've never loved before: "There is a light that shines special for you and me/ You need to look at the other side/ You'll agree."
"You And I"
This song sends one of the most romantic possible messages towards women: you're beautiful just the way you are — music to any woman's ears. To add to the song's beauty, the music video spotlights natural beauty among a diverse group of women, including those with visible disorders and injuries, as they each gaze at their reflection in the mirror. 
"I Love, You Love"
In this sweet ballad, Legend assures someone that they can feel safe with his love, as opposed to past loves that "burned" them: "I'll give in completely/ Hearts break so easily/ I know/ Believe me/ Oh, I've tried/ But my arms can hold you/ My kiss console you/ I'll come and love you tonight." The soulful, weeping guitar riffs definitely heighten the song's romantic mood.
"Coming Home"
In this heart-wrenching ballad, Legend asks an estranged lover to entertain the possibility of loving him again. When he says "I'll be coming home," he means returning to her and hoping they'll fall back in love like they once did. In the first few lines, he uses the painstaking example of a wife waiting for her husband to return from war to set up his plea: "A father waits upon a son/ A mother prays for his return/ I just called to see/If you still have a place for me/ We know that like took us apart/ But you're still within my heart/ I go to sleep and feel your spirit next to me."
"So High"
This euphoric love song compares being in love to being on "cloud nine." "Let's go to a place only lovers go/ To a spot that we've never known/ To the top of the clouds we're floating away yeah." The melody builds steadily through the verse, leaving both the lovelorn and lovebirds itching for the climactic chorus. 
"Stay With You"
This is one of those songs one can picture waking up to with the love of their life each morning while birds chirp sweetly on the windowsill — Gag, but this song can make a painfully corny hopeless romantic out of a non-believer. And it's not about lust, either. It's about that real, undying love people talk about: "We've been together for a while now/ We're growing stronger everyday now/ It feels so good and there's no doubt/ I will stay with you as each morning brings sunrise/ And the flowers bloom in springtime/ On my love you can rely/ And I'll stay with you."