Is Beyoncé Tackling Social Justice in Her Rumored "Formation" Album?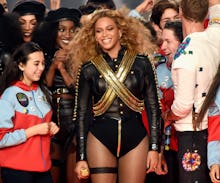 Kevin Mazur/Getty Images
Beyoncé typically steers clear from controversy. Not one to attach her name or brand with political causes, the queen of hip-hop and R&B usually only endorses non-polarizing campaigns, like the 22-day vegan challenge she did with rapper and music mogul (and husband) Jay Z. 
Even before the singer-songwriter surprise-released "Formation" on Saturday, then proceeded to slay audiences in a Black Panther-themed Super Bowl 50 halftime show performance, Twitter was whispering of a possible shift in Beyoncé's role as an entertainer. Could the "Drunk In Love" singer be planning on entering the activism arena with a fiery new album?
Read more:
Following Bey's halftime performance, her backup dancers (dressed in berets and leather uniforms) held signs for photographs which read "Justice For Mario Woods," referencing a 26-year-old black man killed in December by San Francisco police officers.
The move was a controversial one, one that took place right on the field directly after Beyoncé's performance, which also included Bruno Mars and Coldplay. Through the outfits, lyrics and incredible performance, one thing was clear: There is a transition happening in Team Bey.
As news circulates Beyoncé is preparing to release a new album further aligning herself to social movements like Black Lives Matter, audiences are beginning to take sides. Meanwhile, the BeyHive took notice: 
Though taking a stance on major issues like the Black Lives Matter movement and racial injustices seen in America is certainly a bold move at this stage in Beyoncé's career, fans are welcoming the transition. The singer's decision to support social justice comes shortly after Jay Z's streaming service Tidal announced exclusively to Mic it would be donating $1.5 million to social justice organizations like Black Lives Matter.