Rubio Fights to Regain Momentum in New Hampshire After Disappointing Debate Performance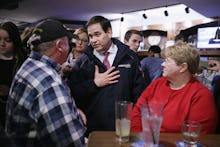 CONCORD, New Hampshire — Experienced. A fighter and uniter. The only Republican nominee who can win in November.
That's the way Florida Sen. Marco Rubio pitched himself to voters here on Monday afternoon as he sought to regain the upper hand after a shaky Saturday debate performance stalled his momentum on the eve of Tuesday's New Hampshire primary.
"I know if I'm our nominee, I will win," Rubio told voters in the intimate downstairs lounge of The Barley House on Main Street, the first of several stops on a busy day of campaigning. "There's a reason they attack me. We're going to win because we're the one who can best unify this party."
If he is to become the Republican party nominee, however, Rubio will need a strong showing in New Hampshire, where recent polls show him in a tight race for second place behind Donald Trump. He is weathering a barrage of fierce attacks from the trio of governors running against him — Chris Christie, John Kasich and Jeb Bush — who have gone directly after the 44-year-old, first-term Florida senator in recent days, arguing that Rubio lacks the experience needed to be president.
The pitch: Despite the pressure, Rubio seemed unfazed as he spoke with voters in Concord, emphasizing his small-government credentials to a room full of several hundred people.
"You're going to have a president that understands that jobs aren't created by politicians," Rubio said to a rousing applause from the crowd. "You'll have a president who understands that the federal government is not the answer to all our problems."
Rubio also placed a heavy emphasis on foreign policy. "You add up every other candidate running for president on that stage, and I have more foreign policy and national security experience than all of them combined," Rubio said. "No one has shown a better understanding or better knowledge of the challenges we face on the global stage than I have."
Will it work? Whether or not his case persuades New Hampshire's famously fickle electorate, however, remains to be seen. One young voter, Pat Edwards, said he's already looking past Rubio's debate performance and supports the Florida senator due to his positions on immigration and the military.
"Obama does know what he's doing," Edwards told Mic, referencing Rubio's now-infamous line from Saturday's debate. "But Obama's just wrong. Rubio is young and that helps him to captivate voters [like me] and take over."
Outside the event, however, a different scene emerged. Tensions flared as a group of protesters mocked Rubio for his disappointing debate performance. One woman, Leah Wolczko, a voter from nearby Goffstown, dressed as a "Rubio bot" and strutted up and down the sidewalk while shouting the disparaging line "Barack Obama knows exactly what he is doing" repeatedly, in a monotonic and robotic-sounding voice, to anyone who would listen.
Rubio gets one more shot to silence doubts Monday evening, when he speaks at a rally at Nashua Community College, which marks his final planned campaign stop ahead of Tuesday's primary vote.
Although Trump remains the frontrunner by a wide margin in New Hampshire polls, Rubio is banking on his "3-2-1 strategy" — namely to finish third in Iowa, second in New Hampshire and then go on to win South Carolina. With Kasich surging in the latest polls, however, Rubio has his work cut out for him in the Granite State.