The 2016 Grammy Awards are Monday — Here's What You Need to Know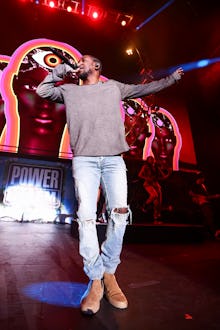 John Salangsang/AP
The 58th Grammy Awards is set to air on Feb. 15 at 8 p.m. Eastern on CBS, and with it, the annual tradition of peer-voting among the best artists in the music industry. Presented at the Staples Center in Los Angeles and hosted by LL Cool J, this year's awards will feature a plethora of talented artists from various genres nominated for the coveted slew of awards, while many more are slated to perform during the event.   
Read more:
Among the nominees, rapper Kendrick Lamar has the most nominations with 11, including an Album of the Year nomination for To Pimp a Butterfly. Additionally, The Weeknd and Taylor Swift have several nominations, and both have Album of the Year bids for Beauty Behind The Madness and 1989, respectively. Swift also collaborated with Lamar on her single "Bad Blood" — a track that's earned two nominations of its own. 
Here are some of the notable nominees from the marquee categories. 
Record of the year: 
· Really Love — D'Angelo and The Vanguard 
· Uptown Funk — Mark Ronson ft. Bruno Mars
· Thinking Out Loud — Ed Sheeran 
· Blank Space — Taylor Swift
· Can't Feel My Face — The Weeknd
Album of the year:
· Sound & Color — the Alabama Shakes 
· To Pimp a Butterfly — Kendrick Lamar
· Traveller — Chris Stapleton
· 1989 — Taylor Swift
· Beauty Behind the Madness — The Weeknd
Song of the year:
· "Alright" — written by Kendrick Duckworth, Kawan Prather, Mark Anthony Spears and Pharrell Williams for Kendrick Lamar
· "Blank Space" — written by Max Martin, Shellback and Taylor Swift for Taylor Swift
· "Girl Crush" — Hillary Lindsey, Lori McKenna and Liz Rose for Little Big Town
· "See You Again" — Andrew Cedar, Justin Franks, Charles Puth and Cameron Thomaz for Wiz Khalifa
· "Thinking Out Loud" — Ed Sheeran and Amy Wadge for Ed Sheeran
Best new artist:
· Courtney Barnett
· James Bay 
· Sam Hunt 
· Tori Kelly 
· Meghan Trainor
Best pop vocal album:
· Piece by Piece — Kelly Clarkson
· How Big, How Blue, How Beautiful — Florence & the Machine
· Uptown Special — Mark Ronson
· 1989 — Taylor Swift
· Before This World — James Taylor
Best pop duo/group performance:
· "Ship to Wreck" — Florence & the Machine 
· "Sugar" — Maroon 5
· "Uptown Funk" — Mark Ronson ft. Bruno Mars
· "Bad Blood" — Taylor Swift ft. Kendrick Lamar
· "See You Again" — Wiz Khalifa ft. Charlie Puth 
Best dance/electronic album:
· Our Love — Caribou 
· Born In The Echoes — The Chemical Brothers 
· Caracal — Disclosure 
· In Colour — Jamie XX 
· Skrillex And Diplo Present Jack Ü — Skrillex and Diplo 
You can also check out the full list of nominees here. 
Furthermore, the list of performers at the Grammys has continued to grow, with Swift announcing her intent to perform on Sunday, according to Billboard. The set of performers also includes Rihanna, Adele, Ellie Goulding, The Weeknd, Drake, Rihanna, Justin Bieber, Diplo, Skrillex, Chris Stapleton, Bonnie Raitt, Gary Clark Jr., Pitbull, Robin Thicke and Travis Barker among others, according to Billboard.  
Lady Gaga will also perform a tribute to the late David Bowie, as she was already pegged to perform and wanted to honor the talented and versatile musician. "When I fell in love with David Bowie, when I was living on the Lower East Side, I always felt that his glamor was something he was using to express a message to people that was very healing for their souls," Gaga said, in a podcast interview with the Hollywood Reporter shortly before Bowie's death "He is a true, true artist and I don't know if I ever went, 'Oh, I'm going to be that way like this,' or if I arrived upon it slowly, realizing it was my calling and that's what drew me to him."
While it might seem conspicuous that Adele's latest album, 25, wasn't nominated for any Grammy awards, this wasn't due to negligence on behalf of the Grammy board. The album was released after the time of eligibility, which was from October 1, 2014, to September 30, 2015, according to the Mirror. Instead, this could allow her to add to her Grammy collection in 2017. 
In any case, the Grammys is poised to be a grand spectacle this year, filled with noteworthy artists, standout performers and at least one much-deserved tribute for a late, great music legend.