The 10 Cheapest European Countries to Visit in 2016 That Won't Break the Bank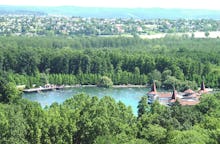 Bela Szandelszky/AP
Traveling is awesome for your soul, but not always awesome for your bank account. If you're craving a trip to Europe this year but don't want to shell out major cash, here are the 10 cheapest European countries for travelers, according to the World Economic Forum's 2015 Travel & Tourism Competitiveness Report.
Read more:
10. Hungary
Visitors to this landlocked country in central Europe can find Roman ruins, medieval castles and contemporary art. The capital of Budapest was ranked as the world's second best city by Condé Nast Traveler in 2013.
9. Estonia
Estonia is a country roughly twice the size of New Jersey. Its capital city, Tallinn, is just across the Gulf of Finland from Helsinki. Off the mainland, the country includes more than 1,500 islands.
8. Georgia
Don't get it confused with the southern U.S. state — Georgia is a country bordered by Russia and Turkey, among other neighbors. According to the BBC, the country is "famed for its traditions of hospitality and cuisine." 
7. Moldova
Moldova may be small — it's only slightly bigger than Maryland — but it has a very long history. The country was home to invading Romans, Goths, Huns and Slavs. Moldova now boasts 142 wineries in its small countryside.
6. Latvia
Latvia, located on the Baltic Sea between Lithuania and Estonia, is a country of just under 2 million residents. Its capital city, Riga, has been called one of the best cities for Art Nouveau architecture in the world.
5. Lithuania
Lithuania, just south of Latvia, is a country slightly bigger than West Virginia. Lonely Planet called it "one of Europe's gems" and notes that "Lithuania's foremost attraction is its stunning Baltic coastline, especially the unique sliver of white sand known as Curonian Spit."
4. Romania
Romania, located along the Black Sea, is home to both beach towns like Mamaia and ski resorts in the mountains. This is probably the best destination for vampire lovers, since Romania includes Transylvania and "Dracula's castle."
3. Poland
Poland boasts "chic medieval hot spots like Krakow and Gdansk," according to Lonely Planet, as well as the country's capital city, Warsaw, which has castles, parks, museums and a vodka distillery.
2. Russia
As the largest country in the world, Russia is a vast and storied destination. As the New York Times reported in April, "a string of calamitous events" in the country have lead to a decline in tourism, meaning that prices for tourists visiting the Kremlin, the Bolshoi Theater, the Tretyakov Gallery and other attractions had all fallen.
1. Bulgaria
Bulgaria is officially the most "price competitive" European destination, according to the World Economic Forum, meaning you can get the most bang for your buck on a vacation to this country, which borders Greece. Lonely Planet calls Bulgaria "a true haven for hikers," and claims that "the long, professionally maintained sandy beaches at the big resorts are the equal of some of the most popular Mediterranean destinations."