Why Do Millennials Love Faux-Incest Porn So Much?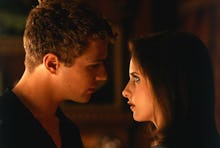 If you're a young adult who watches porn and you're not familiar with the term "fauxcest," you're probably still familiar with the concept. In fact, you're probably very familiar — and have maybe even jerked off to it (more than once). 
Fauxcest, or fictional incest porn, has been one of the fastest growing X-rated genres in recent years. While a significant portion of the genre centers on coital relations between stepparents and stepchildren (or between stepsiblings), fauxcest can also feature two unrelated actors playing actual relatives. As porn performer Ashley Fires put it at a recent panel on porn trends that Mic attended at Adult Video News' Adult Entertainment Expo, demand has led her to get over her concerns about doing scenes about blood-related family members. "Now, I'm fucking my 'son' all the time," Fires said. 
The meteoric rise of fauxcest is reflected in porn's top charts, award nominations and sales figures, according to Jeff Dillon, vice president of the adult content site GameLink (NSFW). Dillon told Mic the trend isn't without historical precedent: Incest has been a notable niche in the adult entertainment world since the release of the successful Taboo series in the 1980s, not to mention a fixture of high school English syllabi pretty much since Oedipus Rex was translated. 
But Dillon told Mic fauxcest porn didn't make a comeback until about two years ago, when the adult studio Forbidden Fruits Films reinvigorated the genre. Since then, adult entertainment has been inundated with it. 
"To say it has increased in popularity 1000% would be an understatement," Dillon said. "Once other studios saw the demand for this type of content they started to produce the family role-playing movies to meet demand."
And who, exactly, is driving the demand for this content? Why, millennials, of course. 
Given the near-universality of viewing incestuous sexual relationships as taboo, it seems unlikely that anyone would have an inherent predilection for simulated daddy-daughter intercourse. Yet the trend is clear: Millennials are into fauxcest. 
GameLink is just one of the adult content providers to find that young adult consumers are seeking out family role-play scenarios; in July Pornhub and Mic reported that millennials disproportionately looked for porn with stepsiblings and other family members, with some of the most popular search terms including "mom," "MILF" and "stepsister." Dillon also noted that family role-play remains one of the top categories millennials watch on GameLink, and in 2015, fauxcest titles accounted for nearly 1 in 10 purchases made by young adults who visit the site. 
But according to Bree Mills, head of production at the adult studio Gamma Films and a producer for the lesbian erotica site Girlsway (NSFW), we're also being drawn to fauxcest even when we're not quite looking for it. Mills told Mic that for about a year, family role-play porn has been steadily growing in popularity among her site's millennial viewers, many of whom come to Girlsway via banner advertisements on tube sites — the places we're initially visiting to watch (pirated) porn.
"The way tube sites are designed is through many quick, 30-second video ads and through clips," Mills explained. "For [porn] companies, the way they're primarily advertising is through that video banner — something that's going to get your attention. It's a lot easier to get attention with some sort of storyboard. 'This guy is fucking his best friend's girlfriend while he's playing video games,' for example. Something you can show as a situation in an ad." 
In Mills' experience, portraying a snippet of a fauxcest scenario in an advertisement has proven to be a successful shortcut for bringing in viewers, in part because the storyline is easy to grasp. "A lot of the type of content has been driven by the fact that it's much easier to sell something when there's a story to sell," she said. 
That would essentially mean that millennials' interest in family role-play porn could be chalked up to the way our generation consumes adult content — online, predominantly via tube sites — and the way the industry has responded to our consumption patterns. The fact that viewers then stick with those plots, however, indicates a deeper fascination with watching family dynamics, manufactured or not, play out in porn. 
The question, then, is where that fascination comes from — and the answer could well be unique to our generation and the world we've grown up in. Sociologist Chauntelle Tibbals, author of Exposure: A Sociologist Explores Sex, Society and Adult Entertainment and frequent Mic contributor, believes it could have something to do with the same social influences that have made millennials one of the most open-minded demographics to date, not to mention our generation's unprecedented access to information (and pornography) of all kinds. 
"Historically, as well as culturally, part of what makes porn titillating is its 'taboo' factor," Tibbals told Mic. "And today, though talking about sex openly has become no less challenging ... our digital access to sex via porn has perhaps made porn itself less taboo. It's not surprising then that fantasy depictions of more taboo sorts of sex start to emerge as a focus of interest." 
She noted that when it comes to fauxcest, our interest is also likely reinforced not only by the plethora of such content in adult entertainment, but in the mainstream as well — think Cersei and Jaime Lannister of Game of Thrones. "It could be that seeing 'taboo' sexual narratives depicted on nontaboo, mainstream platforms gives viewers a sort of tactic permission to explore overtly erotic, hardcore content more fully," Tibbals said. 
Indeed, Mills noted that from the production side, the incorporation of traditionally taboo subjects in the broader culture has contributed to the fauxcest boom. She believes that much of what appears on cable TV that's been characterized as boundary-pushing has helped blur some of the lines between adult content and mainstream entertainment; to Mills, it represents "a growing leniency toward edgier content, which definitely benefits those who are producing adult content because it's less of a gap."
"Part of what makes porn titillating is its 'taboo' factor."
Of course, our sexual open-mindedness is still merely relative; pornography remains taboo, and incest unthinkable. (For an example of the latter, simply look to the public response to recent media coverage of genetic sexual attraction.) 
Porn about incest (or otherwise fraught sexual family dynamics) seems, then, subversive and hardcore; it's the titillating thing to replace the last titillating thing. And that's exactly what draws people in, according to Dana Vespoli, a porn performer and director for the adult company Evil Angel (NSFW). 
"A lot of [the fauxcest boom] is a reflection of what our preoccupations are in mainstream society," Vespoli told Mic. "[But] because of what people typically do when they watch this content (i.e. masturbate), it's a more primitive response. People are fighting against whatever rigid boundaries are in their lives. It's the need to break against convention and feel free in a safe and legal place." 
Vespoli likened the explosion of family role-play porn to the popularity of fast food, claiming that scenarios that are readily identified as taboo are most likely to appeal to viewers' desires the fastest, and therefore most likely to be successful. 
"[Fauxcest] satisfies people's sort of base needs right now," Vespoli said during the panel at the Adult Entertainment Expo. "I feel like consumers' attitude is, 'If I want to think or feel something, I'll go watch fuckin' Lars von Trier. If I want to jack off, I want to see big oily asses, moms fucking uncles and dads fucking daughters.'"
That base desire is pretty much ancient, and one that, as GameLink's Dillon pointed out, has cycled through adult entertainment before. "Falling in love with an older woman, particularly young men with an Oedipal complex, is kind of as old as time. The fact that millennials are interested in it now is just partly that that type of fantasy is cycled back into pornography in general," Mills explained. 
Mass media and the internet have given today's young adults access to more good stories than we could ever possibly consume, whether they're on Netflix or RedTube, along with the ability to indulge in whichever ones we want, whenever we want. Fauxcest is a concept with which we're already familiar, not to mention one with a long, long history of being scandalized. 
"People are starved for good story-driven content, and family role-playing is some of the best story-driven content being produced right now," Dillon said. "The market is flooded with gonzo-style porn, which is pretty formula, the same models with the same sex positions. I think for an oversexed generation like millennials, they need to be engaged mentally before they are sexually stimulated." 
Our interest in fauxcest could be borne of an oversaturated porn market, an evermore progressive mainstream or the cyclical nature of adult content, or it could be yet another repercussion of living our lives on the internet.
Or maybe, Dillon added, it could all be way, way more simple than that. 
"We all grew up with that one friend who had the hot parent that we fantasized about," he said. "For millennials, that fantasy is still a recent memory."