How to Travel to Cuba — What You Need to Know About Restrictions, Visas and Transportation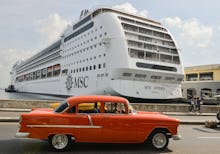 Ana Rodriguez/Getty Images
President Barack Obama's restoration of diplomatic relations with Cuba in Dec. 2014 restored the ability of U.S. citizens to legally travel to the country for the first time since the Cold War. Theoretically. In practice, the whole process is predictably complex, and subject to change. The most recent amendments to the Cuban Assets Control Regulations set by the Department of Treasury went into effect on Jan. 21, 2016. The rules surrounding what one can and cannot do to enter Cuba have changed slightly, but the basic restrictions remain the same.
Read more:
Tourists cannot simply walk off a plane, get their passports stamped and head into the streets of Havana; to visit Cuba for a standard vacation is still illegal, but to visit in a professional, familial, humanitarian or other loosely defined but particular capacity is a-OK. Here's what travelers need to know when planning a trip to Cuba.
What are these various capacities? The Treasury Department has 12 categories of permissible travel. U.S. citizens may enter Cuba:
1. To visit family 
2. On official business of the U.S. government, foreign governments, and certain intergovernmental organizations 
3. For journalistic activity 
4. For professional research and professional meetings 
5. For educational activities 
6. For religious activities 
7. For public performances, clinics, workshops, athletic and other competitions/exhibitions
8. To provide support for the Cuban people 
9. For humanitarian projects
10. For activities of private foundations and research or educational institutes 
11. For the exportation, importation, or transmission of information or information materials 
12. For certain authorized export transactions
The restrictions are, then, at once highly specific and open to interpretation. Mic does not encourage readers to lie to the U.S. government, however, a quick run through the above stipulations indicates that it wouldn't be too hard to do so, if a reader were so inclined. The traveler should be able to document their activity while in Cuba, so saving receipts is a good idea. The Office of Foreign Assets Control (OFAC), however, does not require travelers to submit written requests for a general license under these guidelines. 
Basically, if you say you're a journalist, congratulations! You're a journalist. Now the only thing standing between you and Cuba is a tourist visa.
WTF? What about tourism being illegal and not needing a license? Ah, the paradoxes of life and government. A license and a visa are not the same thing; fortunately, a visa isn't too hard to obtain. According to CNN, if you book through a Cuba-focused travel agent or charter service, you needn't take any additional steps to procure a visa — the company will do it for you. CubaExplorer.com, for example, bakes the cost of a tourist visa into the price of roundtrip airfare and will ship the document to you after you buy. 
Other booking options include Cuban Travel Services and ABC Charters. For those enterprising types who'd rather plan the whole thing themselves, CheapAir.com could be a useful option: As CNN reported, they will help customers secure a visa. For travelers departing from Canada, Mexico or the Bahamas, visas can be purchased in the airport before departure. 
Tourist visas are valid for 30 days and can be renewed in the country for an additional 30 days. According to CNN, a visa costs about $25; other sources put the price around $30. 
Other travel options? Those who loathe air travel may go by sea. According to the Treasury Department, travelers can take a commercial passenger ferry, cruise ships that fall within the permissible travel categories and, in certain situations, their own boats: the Treasury Department stipulates that the "temporary sojourn" be authorized by the Bureau of Industry and Security (additional guidelines for travel are here). 
What to bring: A valid passport and cash — according to CNN, U.S. credit and debit cards weren't working reliably as of December. And N.B.: A visa can take several weeks to process, so book tickets well in advance.