The 13 Best Songs About Friendship That Will Make You Think of Your BFF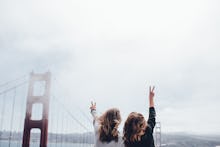 Ian Schneider/Unsplash
There are plenty of songs about romantic love, but what about songs about friendship? Baes may come and go, but your crew is forever, so here are 13 songs to help you celebrate the real loves of your life, your BFFs.
Read more:
1. "All My Friends," LCD Soundsystem
This song is for when you're far away from your friends and you're suddenly feeling nostalgic for a time when you were all together. It's like you didn't even appreciate those good times until they were over, you know?!
2. "We're Going to Be Friends," The White Stripes
You know that awesome, innocent period at the beginning of a friendship when you can't stop laughing and texting each other constantly? That's kind of what this song is about. Treasure that time, because it doesn't last forever.
3. "Rollin' With My Homies," Coolio
This is the perfect song for when you're, you know, rolling with your homies. Play it in the car when you're going out to have a fun night. Also, Brittany Murphy sang this in Clueless, remember?
4. "With a Little Help From My Friends," Joe Cocker
If you love your friends so much that it makes you cry, this is the song you need to be listening to. Yes, it's originally a Beatles song, but the Joe Cocker version is better. Yup, we said it.
5. "Ain't No Mountain High Enough," Marvin Gaye and Tammi Terrell
Ok so maybe this song is supposed to be about a romantic relationship but it sounds way more like a friendship to us. You know, like the kind where, when your friend is in trouble, you'll do anything to help them? That's what this feels like.
6. "You've Got a Friend," James Taylor
There's nothing like James Taylor's buttery-smooth voice to capture the tenderness of friendship in every season. This is a good song to send to your long-distance friend when they're feeling down because you're not there.
7. "I'll Be There For You," The Rembrandts
Yes, we know this is the theme song from Friends, but it's also a song about friendship. And it makes us think of Friends, which makes us nostalgic for the '90s.
8. "Anytime You Need a Friend," Mariah Carey
If your friend is mad at you about something and you want to stand under their bedroom window holding a boombox to show how much you care about them, this is the friendship jam you should be playing.
9. "We Are Your Friends," Justice Vs. Simian
This is a Justice remix of a Simian track, and it's also the perfect song to play when you need to amp up your friends for a big night. Like a really unforgettable night.
10. "That's What Friends Are For," Dionne Warwick
Sometimes you and your friend need to hang out on the couch all day and look into each other's eyes and sing along to this song at the top of your lungs. Go ahead and try it.
11. "Graduation (Friends Forever)" Vitamin C
This is literally the best song to play when you're graduating and crying about how much you'll miss your friends from school. It's not even a contest. Also, her name is Vitamin C because her hair is orange ... get it?
12. "Stand By Me," Ben E. King
Need a song to sing around a bonfire on a beautiful night with your friends? Just sing this one over and over until you are all sobbing in each other's arms.
13. "You've Got a Friend In Me," Randy Newman
This song may make you think of Toy Story, but Woody and Buzz had a beautiful, beautiful friendship, so what's wrong with that?