Woman Quoted by Trump Who Called Cruz a "Pussy": Trump Has "Balls the Size of Watermelons"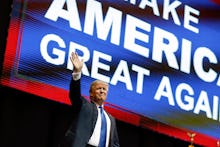 MANCHESTER, N.H. — On Monday night, just hours before polls open in New Hampshire, Donald Trump almost certainly became the first presidential frontrunner in history to utter the word "pussy" on stage.
During a rally at the Verizon Wireless Arena in Manchester, New Hampshire, Trump broached the topic of waterboarding. As he laid out the other candidates' "weak" stance on the issue, he began riffing on Ted Cruz's stance, which came up during the Republican debate on Saturday.
One supporter in the crowd shouted something, which Trump reiterated to the crowd. "She said he's a pussy. That's terrible," Trump said. The crowd laughed before cheering "Trump! Trump! Trump!" in unison. 
Mic found the woman who originally shouted the comment about Cruz. She declined to tell us her name or be photographed, but agreed to answer a few questions. The 52-year-old woman from Salem, New Hampshire, said the Trump event was her first political rally of the cycle, but described herself a "huge Trump supporter."
"I watched the debate, and [Ted Cruz] just comes across as a pussy," she told Mic on the floor of the Verizon center. "He doesn't have the balls to stand up to Putin. He doesn't have the balls to stand up to other leaders of others countries." 
When asked whether she trusts Trump, she answered, "He's got the balls the size of watermelons, whereas the other ones got the balls of little grapes." She then specified the size of other candidates' testicles. "The other one, Rubio, [has balls] like a raisin." When asked about the other candidates, she answered, "They're nobodies."
Perhaps this Trump supporter has come up with a new currency to "size" candidates up?