Rubio Does It Again, Repeating Same Line Twice in a Row on Eve of New Hampshire Primary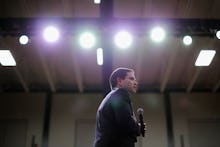 NASHUA, N.H. — With his shaky weekend debate performance hanging over his campaign, Florida Sen. Marco Rubio delivered his final pitch to voters in Nashua on Monday, the eve of the New Hampshire primary. He was eager to dispel the notion that he is an overly rehearsed and inexperienced politician who resorts to canned stump lines under pressure.
There was just one problem: Rubio quite literally resorted to a canned stump line under pressure. Again.
Speaking to a lively crowd in the Nashua Community College gymnasium, Rubio discussed his desire to reinstill conservative values in the next generation.
"We are taking our message to families that are struggling to raise their children in the 21st century because as you saw, Jeanette and I are raising our four children in the 21st century," Rubio said. "And we know how hard it's become to instill our values in our kids, instead of the values they try to ram down our throats."
Here's what Rubio said in the very next sentence:
"In the 21st century, it's become harder than ever to instill in your children the values we teach in our homes and our church, instead of the values they try to ram down our throats in the movies, in music, in popular culture."
Watch here:
Rubio's nearly word-for-word repetition was certainly not the Saturday debate gaffe that had the effect of halting the 44-year-old first-term senator's momentum in the aftermath of the Iowa caucuses. But it will do little to counteract the onslaught of attacks in recent days from Rubio's Republican rivals, who have said he chokes under pressure and lacks the experience to be president.
Rubio's final appeal to voters: His gaffe aside, Rubio made the case to New Hampshire voters that he is the only Republican candidate who can unify the GOP and take on the Democrats in November.
"To win, we must unify this party," Rubio told voters. "We cannot win if we are divided against each other. When I'm our nominee, we will bring the conservative moment together."
That appeal in particular seemed to resonate with young voters in attendance. "Rubio comes from a very different background than other candidates," Chris Bird, a college senior at Quinnipiac University, told Mic. "I don't think he is a partisan at heart. He is someone who could unite America in a very positive way."
Rubio also pitched himself as a young conservative who cares about the issues that matter to millennials, arguing he is uniquely positioned to win them over. "We are taking our message to younger Americans who are struggling with student loan debt," Rubio said. "I had student loan debt, and I feel passionately about that issue."
Young voters in attendance told Mic they are confident Rubio would be able to win over millennials in the general election. "He's been a moderate candidate, he's definitely the most electable from the right," Todd Swenson, 18, told Mic. "He can definitely win youth voters."
"The Republican Party has generally done a poor job reaching out to young voters and minority voters," Bird said. "That being said, Rubio is a younger person, of a new generation. He brings a certain amount of excitement to his candidacy. He has a great personality and he's very fun. That's definitely a major plus for his chances to win over young people."
There's a lot riding on New Hampshire: Rubio is banking on a "3-2-1" strategy following Iowa — in which he finishes second in New Hampshire and then goes on to win South Carolina — in order to secure the Republican nomination. With Ohio Gov. John Kasich rising in the latest polls, however, there's a lot riding on the Granite State for Rubio.
Whether Rubio's case that he is the candidate who can unify the Republican party and break through with millennial voters will prevail, or whether his opponents' attacks will stick, will become clear on Tuesday.