Samantha Bee Crushes in Series Premiere of Her New Show 'Full Frontal'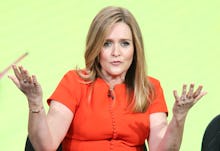 Daily Show veteran Samantha Bee burst back into the spotlight Monday with the premiere of her show Full Frontal. Bee, who spent 12 years as a "fake news" correspondent under Jon Stewart, overflowed with confidence in a tour de force opening monologue that offered a blistering assessment of the presidential race. Bee said the bipartisan insanity only made her regret that her show hadn't premiered earlier. 
"For months I've been just sitting here with no show, just yelling at a wall while the most deranged electoral shitshow in a generation passed me by," said Bee. "It has been killing me." 
Read More: Samantha Bee Perfectly Explains the Key to Making Hollywood More Diverse
But nobody has to wait any longer. Bee first launched into the Democratic campaign, mocking Bernie Sanders' clothes, saying he was "wearing" the Democrats' big tent and derided Hillary Clinton's assertions that she never had "any idea" she would be running for president. Bee she took aim at the cavalcade of forced agreement in the latest Democratic debate.
"Everybody is agreeing so tersely," Bee said. "I just had a flashback to the month before my parents finally admitted they were getting a divorce."
And it went on from there. Reflecting a keen sense of observational humor, Bee noted that Sanders' mannerisms at one point were vaguely reminiscent of someone trying to "flag down a waitress." 
Bee then apologized and said she simply had no further time for Democratic jokes as the Republicans "laid out a banquet of all-you-can-eat crazy." 
While many comedians might have started this segment with Donald Trump, Bee focused on come-from-behind Iowa caucus winner Sen. Ted Cruz, or as she otherwise eloquently labeled him, a "fist-faced horse shit salesman."
Bee then played footage of an excruciating moment from a CNN interview between correspondent Dana Bash and Heidi Cruz, Ted's wife. In the clip, Bash wasted no time getting to the point. 
"Your husband is sort of actively disliked by a lot of his colleagues in the Senate — Republican colleague in the Senate," Bash said. "But you chose to spend your life with him." Heidi Cruz did herself no favors by leering into the camera with a forced smile that appeared to betray discomfort. 
Later on, Bee scrambled to say something redeemable about Marco Rubio, despite his widely mocked performance during the most recent Republican debate. But Rubio foiled Bee's plan after he accused Clinton of being in favor of abortions during all stages of pregnancy "even on the due date of that unborn child." 
"Keep telling your cabal of fetus fanatics that Hillary Clinton wants us to carry to term and then deliver our babies directly into a Vitamix so that Planned Parenthood can sell it to Whole Foods," Bee said. 
Bee's new venture stands to shake up a mainstream late night comedy landscape overwhelmingly dominated by men. Bee delivered her monologue standing up, with an infectious energy that called to mind Stewart's takedowns of Glenn Beck. Often in contrast to her two main rivals, Stewart successor and current Daily Show host Trevor Noah and Late Night's Stephen Colbert, her delivery was crisp and rapid fire, with jokes that revealed a deep sense of campaign insight. 
Watch the video here: