Jessica Williams Slams Beyoncé's Critics in the Best Way Possible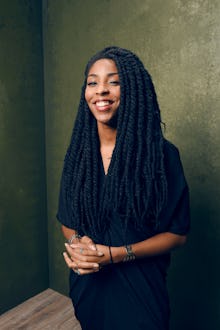 When Beyoncé released her latest single, "Formation," ahead of her Super Bowl performance this weekend, her fans overwhelmingly rejoiced, praising the song as "unapologetically black" and an activist triumph. But, perhaps predictably, the artist soon faced backlash for those very reasons. Many have come to the superstar's defense, but few have been as on point as The Daily Show's Jessica Williams in her takedown on Monday night.
Not only did Beyoncé look like "a beautiful black Dumbledore, but wearing a really nice weave and $3,000 worth of Gucci" in the "Formation" video, Williams noted, but she also addressed police brutality — and fearlessly carried this message to her Super Bowl performance. The star paid homage to the Black Panthers, danced in a "Malcolm X formation," and her dancers even later honored a victim of police brutality. 
Her performance, however, received plenty of backlash, including Rudy Giuliani's comment that her decision to "attack police officers" was "really outrageous" and inappropriate for "middle America," and another British pundit's query of why race needed to be brought into the performance at all. 
Williams then went to work deconstructing these ignorant statements.
"Race was brought in because Beyoncé was brought in and — brace yourself, you might want to sit down for this — Beyoncé is black," Williams facetiously said. "As a black person, you walk around every single day, constantly reminded that you are black."
What's more, as activist Ronnisha Johnson told Mic's Jamilah King on Monday, race was not just injected into the event by Beyoncé's performance, but an issue already present at the event itself. Although many fans "came to San Francisco to celebrate the Super Bowl without knowing about the plight that black and brown folks are facing," Johnson pointed out, the city still profited from the event "at the expense of the poor black communities that reside here."
And race was certainly already an issue in the lives of Super Bowl viewers — even the middle Americans for which Giuliani expressed concern. In fact, middle Americans may be the very people who need to hear this message most, Williams implied, noting that "Ferguson, Missouri" — a historic site of police brutality — is one "middle American" locale. 
The statement that Beyoncé uniquely, unnecessarily politicized her performance also indicates a double standard, Williams said.
"The point is Beyoncé is black, and this song is her message," Williams said. "That's what artists do. The message is in their music," pointing out that Coldplay's Chris Martin wore an arm band carrying a statement to end global poverty, and Bruno Mars perpetuated a message about "how Uptown was going to funk me up."
But Williams did eventually concede that an apology was in order.
"I'm so sorry this wasn't wholesome enough for you," Williams said. "The fans deserve wholesome entertainment, like watching 300-pound men give each other concussions while the crowd cheers like we're extras in Gladiator," she added, before ending on a mic drop.
"So what is wrong with Beyoncé, everyone?" she asked. "Were you not entertained?"
Get the five stories that will challenge you to rethink the world by signing up for MicCheck Daily.