What Is the Difference Between the Grammys' Record and Song of the Year?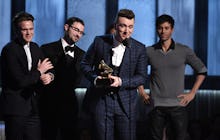 John Shearer/AP
If you don't understand the difference between the Grammy categories for song of the year and record of the year, you're not alone — it's one of the top frequently asked questions about the coveted music awards show. The simple answer: Song of the year honors the songwriter or writers, while record of the year honors the performer, producers, mixers and recording engineers.
Last year, Sam Smith's "Stay With Me" won both record and song of the year, which means Smith received the top honor for his performance of the song and the several songwriters (including Smith) who penned the song received the top honor for their writing. It's no secret that many modern musicians hire people to either write or co-write their music. The Grammys song of the year gives those writers an opportunity to get publicly credited and praised for their work, since their names often receive minimal public association with the song otherwise. 
Read more:
This year, Taylor Swift's "Blank Space" is nominated for both song of the year — Swift co-wrote the song with producers Max Martin and Shellback — and record of the year. Ed Sheeran's "Thinking Out Loud" is also nominated for both categories. A full list of nominees is available on the Grammys website.