'Teen Mom OG' Season 2 Episode 7 Recap: Catelynn Battles Postpartum Depression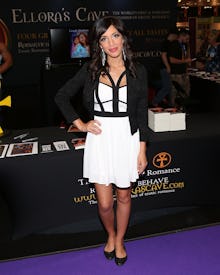 Taylor Hill/Getty Images
On Monday night, Farrah Abraham, Maci Bookout, Amber Portwood and Catelynn Lowell once again grappled with motherhood on the latest episode of Teen Mom OG. In the previous episode, it was revealed that Lowell was struggling with postpartum depression. As she and her husband Tyler Baltierra got ready for their Hawaiian honeymoon, Lowell decided to first stop by her doctor for antidepressants for her anxiety, the International Business Times reported. "When I talk about anxiety, it triggers it because it makes me scared to have it," she said. "I feel like it freaks me out so much to get it, that sometimes it will send me into it." Her counselor advised for her to face those emotions head-on. 
Read more:
While the couple were horseback riding and swimming at the beach, Baltierra confided that if it wasn't for their first daughter Carly (who was put up for adoption), the two probably wouldn't be married. They also discussed savoring moments with their second daughter Nova.
Over in the U.K., Abraham continued her business trip and missed her daughter Sophia's first day of school, prompting Abraham to decide that she wants to move to Los Angeles and spend more time with her. 
Things haven't been easy for Portwood, who was wrestling with fiancé Matt Baier allegedly having fathered seven children. "It's been horrible," Portwood said, according to Us Magazine. "All seven of the kids aren't his, but I think a couple might be because of the way that he was in his past." She also revealed that she thinks her ex, Gary Shirley, dropped the bombshell about Baier's children on-camera to help him win custody of Shirley and Portwood's daughter, Leah. 
"The difference between me and Gary is very simple," Baier said in his own defense. "Things that happened in my life happened 25 years ago, and they were all drug-induced. He's just a bad person, currently." However, the three still gathered together to celebrate Leah's birthday.
Ryan Edwards bailed on plans to go trick-or-treating with Bookout and their son Bentley. It turns out he was late because of his intricate skeleton costume, Us Magazine reported.