Uber Shut Down for Hours in Paris in Protest of Government Regulations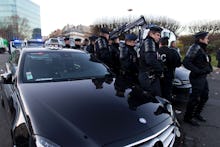 Uber is on hold in Paris today to allow its drivers to join protests against a new set of regulations targeting ride-hailing apps. Uber drivers will be offline from 11 a.m. to 3 p.m. Paris local time.  
The new legislation comes on the heels of a nationwide taxi strike in which taxi drivers blocked streets and burned tires while denouncing chauffeur services and ride-hailing apps, the Verge reported Wednesday. France's taxi drivers are angry about the rise of mobile ride-hailing apps for diluting the market and driving down fares. 
The legislation seeks to sever a relationship between Uber and a certain class of taxi drivers called LOTI drivers, who work for private car services. LOTI drivers typically handle larger groups and tours and have national licenses. In effect, they're on-call chauffeurs. Roughly 20% to 30% of Uber drivers in France are LOTI drivers. These types of drivers are legally required to stop back at their company's garage between fares, but that apparently hasn't been enforced since Uber's arrival.  
Now French Prime Minister Manuel Valls is reinforcing these restrictions and making it illegal for Uber to strike up deals with chauffeur companies in France, reports the Verge. The move will stand to put a significant dent in the number of Uber drivers on the street. 
Uber has 12,000 drivers and 1.4 million users in France, a country where it has been battling for years to maintain its service. It does not appear as though the war between France's independent taxis and ride-hailing apps like Uber will end anytime soon.