What Does 'TLOP' Stand for? Kanye West Tweets New Album Title and Has Twitter Guessing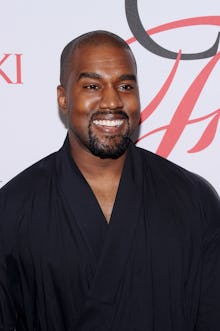 Charles Sykes/AP
Once again, Chicago's own heavyweight rapper Kanye West is taking fans for a ride thanks to two new tweets regarding his upcoming album. Though the recording artist has allegedly (finally) settled on a title for the upcoming release, which is scheduled to drop on Thursday, West is not quite ready to share it with the public. He'd rather we guess.
"Final verses/new album title T.L.O.P," West wrote in a recent tweet. "That's the new album anyone who can figure out the title gets tickets to Season 3 and free Yeezys," read a followup tweet.
Read more:
What T.L.O.P. could possibly stand for is anyone's guess. "Too Loopy or Proud?" "Trump Loves Organic Produce?" "The Last Overripe Papaya?" Or perhaps more appropriately, given the long and torrid saga of West's album title changes and resulting Twitter feuds, "There's Lots Of Press?" or "The Long Overdue Proof?" The possibilities are endless. 
Yet reacting to Kanye's invitation to guess the album's title, some users on Twitter were not so inclined to play along. Others had jokes in response to the prompt. 
One intrepid user even turned to Google for answers.
The back-and-forth over potential answers to West's cryptic acronym didn't end on Twitter. Instead, West's fans and critics erected a dedicated Reddit thread to continue the conversation, and perhaps unsurprisingly given the platform, the rabbit hole runs deep. "Judging by that last tweet he just sent out, 'Season 4 I'm only working on kid's clothing ... full time,' I think it's call The Last Official Project," wrote one user on Reddit. 
"If you look at the countdown video at yeezy.supply, it shows a girl wearing red heels with a house arrest monitor on her ankle talking about the thug life," wrote another user. "I think it's Thug Life On/Or Pradas."
It's been a long road up to Thursday's release. For months, West fans have been waiting for this album under different names. So Help Me God became Swish, which eventually became Waves. Either West's confidence in that album title eroded, the public feud over the name "Waves" swayed the recording artist or West knew the real title of his upcoming record all along — the world may never know.
Another question mark is the album's track list, which West allegedly captured in a photo and shared to Twitter. Fans have taken the various signatures as clues to which guest artists might feature on the record, while others have tried to decipher West's unruly penmanship. The whole saga is beginning to look like something out of A Beautiful Mind.
So what does T.L.O.P. really mean to fans? There's lots of possibilities.