Yet Another Naked Black Man Was Killed by Police in Texas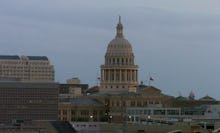 A black teenager was shot and killed Monday morning by police in Austin, Texas, after he allegedly "charged at an officer" in the middle of a suburban street, local television station KTBC reports. The 18-year-old has not yet been publicly identified, nor have police stated whether he was armed.
According to reports, multiple neighbors called the Austin Police Department around 10 a.m. after seeing a naked man wandering the block and "acting erratically and aggressively." When officers arrived, the 18-year-old was reportedly lying in the middle of the road, where he was approached by the officer who eventually shot him.
Part of the killing was captured on a police dashboard camera, but the footage has not been made public.
"The subject did not comply with the commands that the officer was giving, and instead charged at the officer," Assistant Police Chief Brian Manley told reporters. "The officer gives repeated commands ... The subject does not comply. At that point the incident goes off the frame but you can hear continued commands from the officers and ultimately you can hear shots being fired."
According to the Austin-American Statesman, medics were seen performing CPR on the victim before he was taken to St. David's Round Rock Medical Center, where he died later that day. For reasons that are still being investigated, the officer reportedly did not attempt to use his stun gun.
Monday's victim marks the 103rd person killed by American police in 2016, and the 10th in Texas, according to a Guardian database of officer-involved fatalities. Last year, the Lone Star State accounted for 108 of the 1,140 people killed by police in the United States — the second most overall, and the 19th most per capita. 
Black people are slightly less than one and a half times more likely than white people and Native Americans to be killed by law enforcement so far this year, and almost three times as likely as Hispanics. Similar disparities prompted a wave of protests in response to officer-involved killings of black Americans across the country in the past year and a half, and in two cases — Ferguson, Missouri, and Baltimore — sparked riots.
Remarkable though it may seem, this is not the first time police have killed a naked black man in the past year. In March, 27-year-old Air Force veteran Anthony Hill was shot and killed by a police officer at an apartment complex in Chamblee, Georgia, after he was seen naked and leaping from his second-story balcony.
That officer, Robert Olsen, was indicted for murder by a DeKalb County grand jury in January, only the ninth time an officer faced criminal charges for an on-duty shooting that occurred in 2015. Hill had been diagnosed with bipolar and post-traumatic stress disorders. The Washington Post reports that approximately one-quarter of people shot and killed by police in 2015 had some form of mental illness. The mental state of Monday's victim remains unclear.