Target Just Stepped into Gender-Neutral Future With Kids' Furniture That We Kinda Want Too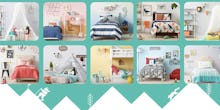 A race car bed. Frilly bedsheets. A basketball lamp. A mini vanity mirror.
Our childhood rooms are basically gender norms incarnate, created for us while we're still figuring out who we are — with Pottery Barn Kids and other furniture stores filling in the gaps. The notion of "boys' rooms" and "girls' rooms" are so ingrained in us it's hard to shake the idea, even in our current, (semi)adult apartments.
But Target has no problem shaking it up, debuting a new "kids' home collection" that's totally gender-neutral.
"It was an aisle of pink, fairy princesses, ponies and flowers," Julie Guggemos, Target's senior vice president of design and product development, told the Star-Tribune, describing Target's previous selection of kids' bedroom products. "And for the boys it was rockets and dinosaurs. Well, you know what? Girls like rockets and basketball. And boys like ponies."
The new collection, cutely called Pillowfort, includes about 1,200 pieces of furniture, bedding and other adorable accessories. Some of the items tap into themes we would have previously thought gendered, like sheet sets printed with basketballs or hearts; other items are less obviously gendered to begin with, like the stuffed animals.
Either way, none of it will be labeled or marketed toward a particular gender; instead, it's all sold together — because who's to say a little boy doesn't want a gold unicorn lamp or a coral "Happy Place" pillow?
Target has already proven itself to be on the forefront of the gender fluidity conversation when it ditched gendered advertising and signage for its non-apparel kids' products.
"In some departments like toys, home or entertainment, suggesting products by gender is unnecessary," the company stated in a press release. "Right now, our teams are working across the store to identify areas where we can phase out gender-based signage to help strike a better balance," including toys and bedding.
Now Target's creating products from scratch that ignore gender definitions from the outset. Also, it doesn't hurt that all these Etsy-ready products are the kind of things we'd totally use in our own homes. 
Seriously, can someone buy us that unicorn lamp and wall hanging? We could really use them to spruce up our sad, white-walled studio apartment.
h/t Racked