'The Walking Dead' Season 6 Midseason Premiere: Here's What You Need to Know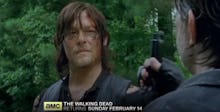 Mic/YouTube
It seems like it's been an eternity since zombies roamed the screens of TV viewers, but The Walking Dead will mercifully return on Sunday for the second half of season six. With it, the show will take some unexpected and potentially gruesome turns, particularly with Alexandria now completely swarmed with walkers. If there's any continuity with The Walking Dead, it's that in times of chaos, characters will die and the stakes will be raised. The second half of season six will be no different, according to The Walking Dead comic book creator — and the show's current executive producer — Robert Kirkman. 
"If you go too long a period with characters surviving and being safe, then you lose that element of, 'Oh my God, any of these characters could go at any moment,'" Kirkman said in an interview on Inside the Actors Studio. "That's a tremendously powerful engine that drives this whole thing and it is very emotional." 
While viewers can certainly make their own interpretations about what's in store for Rick (Andrew Lincoln) and the crew come Sunday, here's what we know about the second half of season six thus far. 
Read more:
A new, menacing main villain will show up. While the show hasn't had a main villain since season three's introduction of The Governor, The Walking Dead will feature Negan (Jeffrey Dean Morgan) — one of the most sadistic characters in the comic book series. Among his notable comic book traits, he carries around a baseball bat laced with barbed-wire he affectionately calls Lucille, and has to drop the "F-bomb" at least once in a sentence. 
While the profanity will certainly be kept in check by AMC, The Walking Dead will be much improved with another main villain for the first time in years. Though he wasn't introduced himself, his henchman ran into Daryl (Norman Reedus) and company in the midseason finale's prologue. 
Other prominent characters from the comics will be introduced. The show will also feature two new characters — a protagonist and an antagonist — who were part of a community called Hilltop in the comics. The antagonist, Gregory, will be played by Xander Berkeley, according to TVLine. If he stays true to his comic book self, he'll be revealed as a cowardly and traitorous character, who could lead the crew to an untimely faceoff with Negan. 
The protagonist, meanwhile, will also be from the same colony, but should act as the antithesis of Gregory. The group will encounter Jesus, to be played by Tom Payne, according to Entertainment Weekly. In the comics, Jesus is in a similar vein as Michonne (Danai Gurira) — a lone survivor who's more than capable of withstanding the apocalyptic world on their own. How Jesus will fit into the group's dynamic remains to be seen, but Kirkman regards him as an "absolute, complete badass." 
"He's smart, quick, very athletic," Kirkman said, in an interview with Entertainment Weekly. "He's kinda been surviving on his feet. He's going to be bringing a lot to the show. There's some cool stuff coming with him."
We're getting plenty more of Daryl. Because the first half of season six endured several time jumps, there were long stretches in the show where major characters were left off-screen. While that generally shouldn't be a problem — The Walking Dead needs to go through its creative, narrative structure to keep viewers off-guard — fans were certainly disappointed with the extended stretches without fan-favorite Daryl Dixon. 
The second half of season six, however, will feature a lot more of the popular anti-hero, according to showrunner Scott Gimple. "We put Norman through his paces," Gimple said in an interview with TV Insider. "He's very scary in this back half, but there are a couple of moments where he made me laugh out loud. There is a whole lot of Daryl and a wide variety of Daryl." 
Considering Daryl was last held at gunpoint by Negan's lackeys, it's quite likely these "very scary" Daryl moments could feature his first encounter with the new villain. 
We're going to lose a major character. Though it's a generalization, it's quite likely that a major character will die, simply through Negan's introduction. One of the most iconic and notable deaths in the comics is at the hands of Negan, when he beats Glenn (Steven Yuen) to death with a baseball bat. While the series hasn't always stayed completely faithful to the comic book adaptations — sometimes even swapping out characters for key deaths in the past — Kirkman said he would certainly be worried for Glenn as a fan. 
"It'd be disingenuous of me to say, from a viewer's point of view, that I wouldn't be afraid [for Glenn]," Kirkman said, in an interview with TVLine. "But what am I holding out hope for?"
"There will be blood." Several members of the group were left in a precarious situation during the midseason finale. With zombies swarming Alexandra, Rick and Co. had to cover one another in zombie guts as a means to disguise themselves among the walkers and escape (a tactic they used once before in season one). The only issue, however, was Sam (Major Dodson) — a little kid who is not even remotely aware of the dangers in the present, apocalyptic world — was calling his mother's name in a panic, which will likely attract the zombies' attention.
"Rest assured, it's not looking good for the Alexandrian crew," Lincoln said, in an interview with Entertainment Weekly. "Yes, there will be blood."
The midseason premiere will undoubtedly feature blood, guts and probably some deaths — things viewers have all come to expect from The Walking Dead. Plenty of questions will be asked and answered in the corresponding episodes, and in the meantime, we all can't collectively wait for Sunday.