Ashley Graham Is Named a Sports Illustrated Swimsuit Rookie of 2016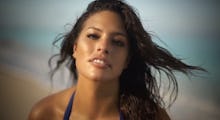 Now this is something we can get behind. 
On Tuesday morning, Sports Illustrated announced that curvy model Ashley Graham is one of its rookies of the year, making her the second plus-size model to ever receive the honor and be photographed for a spread in the annual magazine. 
The new title comes one year after Graham was the first-ever plus-size model featured in an ad in the iconic swimsuit issue, gracing its pages for the online store Swimsuits for All, as part of its #CurvesInBikinis campaign. (She will also appear in this year's issue in a Swimsuits for All ad.)
Graham was previously rejected for the magazine's annual swimsuit extravaganza, as evidenced by a casting call on SI.com that never resulted in a photo shoot. Now, however, the tides have turned in a very body-positive direction. Sports Illustrated is now on board with Graham's brand of sexy, which, as a preview video of her shoot touts, includes being an entrepreneur, an outspoken role model and a committed exerciser.
Graham will join four other women featured in the magazine for getting the Sports Illustrated swimsuit treatment for the very first time as "rookies." But Graham's inclusion is likely the most historic, given the magazine's history of scantily clad, super slim ladies with flat tummies. Thanks in no small part to the vocal advocacy of plus-size women like Graham and her fellow models, institutions like Sports Illustrated are moving in a more inclusive, promising direction. 
Check out the preview video: