Italian Woman May Face Prison for Not Doing Housework — And Yes, It's Still 2016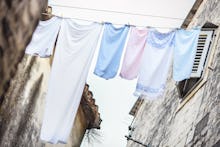 Talk about a time warp.
In Italy, a woman may face jail time after her husband claimed she was shirking her household chores. According to the Telegraph, the 47-year-old man filed formal charges with Italian authorities, accusing his spouse of abuse after she allegedly failed to cook and clean and, on occasion, kicked him out of bed. 
Read More: France Is taking a Stand Against Sexism the U.S. Would Never Consider
The husband's claims of neglect fall under "mistreatment of the family," article 572 of the Italian penal code, which the Telegraph says requires punishment of "whoever mistreats a person in their family or a person entrusted to them for reasons of education, care or custody." The crime is punishable by up to six years in prison.
In a column, Il Tempo opined that the entire thing reeked of a bygone era. "[It's] a paradoxical situation, which seems to come straight from the '50s and not from a country where gender equality should be a given, or at least legally acquired."
No matter, according to another Italian outlet Il Fatto Quotidiano, the matter will indeed be heard in court, with a date set for October. 
What was that about feminism being over?
Get the five stories that will challenge you to rethink the world by signing up for MicCheck Daily.