Zayn Malik's "Pillowtalk" Has Already Done Something One Direction Never Could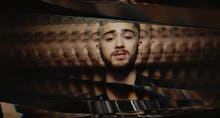 It seems Zayn Malik made the right decision jumping ship from One Direction, his former boy band. A little less than a year after officially announcing his departure, Malik, now going only by Zayn, has already achieved something he never could with his beautiful Brits — a No. 1 single.
On Monday Billboard revealed Zayn's first single, "Pillowtalk," debuted at No. 1 on its Hot 100 chart. One Direction's chart peak? No. 2 in 2013 with "Best Song Ever." The data has now confirmed that title was a lie.
With this debut, Malik also becomes the first artist from the United Kingdom to debut at No. 1 with their first single. He's also one of only three U.K. artists to do it with any single, joining Queen Adele's "Hello" and Elton John's "Something About the Way You Look Tonight / Candle in the Wind 1997."
More important trivia: He's also the first artist with a name starting with the letter Z to sit atop the Hot 100.
Zayn — whose birth name is actually spelled Zain — seems well on his way to pulling off the single-name coup, like Prince, Madonna and Cher before him. He reached out to his fans on Twitter when the news went official, and they've been having a field day with it ever since.
Watch the video for "Pillowtalk" below.