This Is What Happens When Beyoncé Says She Feeds Your Food to Jay Z After They Bang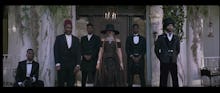 Mic/YouTube
Prior to her halftime performance alongside Coldplay and Bruno Mars at Sunday's Super Bowl 50, Beyoncé dropped her first track since 2014: "Formation." It's an empowering tribute to black bodies, as she touches on her roots and her pride in her "Negro nose with Jackson Five nostrils."
The song's message has been making a powerful impact on Bey's wide-ranging fanbase. It also provided a welcome, albeit unexpected, sales boost for one of America's largest seafood chains that's mentioned in the song — Red Lobster.
Read more:
According to CNN, Red Lobster has seen a sales spike of 33% on Sunday over the previous year. Following the song's release it was referenced over 42,000 times in a single hour on Twitter, getting the name trending for the first time in the restaurant chain's history.
It's easy to say with confidence, the business' surge can be attributed to Bey's reference to her apparent post-coital traditions with her husband, Jay Z, in the line: "When he fuck me good I take his ass to Red Lobster."
To the resounding groans of Twitter users everywhere, Red Lobster attempted to capitalize off its newfound publicity as much as it could. In a tweet, #brand joked about renaming its cheddar bay biscuits, which are delicious enough to attract their own cult following, to "Bey biscuits."
The tweet was cheesier, perhaps, than the biscuits themselves, as was Red Lobster's follow-up addressing the negative response.
Biscuits and puns aside, "Formation" was a welcome and much-anticipated return for Queen Bey, who will also lead a globe-trotting Formation World Tour beginning in April. Until that time comes, impatient fans can keep listening to "Formation" on Tidal and its music video through YouTube.