Here Are 6 Non-Gendered Anniversary Gift Ideas for Your SO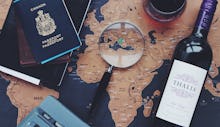 Gregory Bourolias/UnSplash
Card companies have traditionalized paper, cotton and leather as anniversary gifts, while other capitalistic ventures tell us roses or jewelry will satisfy your partner. But there are so many more options for those couples who want to avoid such confined anniversary gift options. 
Gender-neutral gifts allow for couples to better and more creatively cater to each other's interests — and they can be just as romantic as roses have become.
Read more:
In fact, some of the better and most memorable anniversary gifts are experiential rather than the standard items we fall into buying. 
From the gifts that leave each other with long-lasting memories to something they'll look at everyday, here are six sentimental and gender-neutral anniversary gift ideas:
1. Home-cooked candlelit dinner
Pop open a bottle of wine and treat your significant other to a classically romantic gift by making them a dinner decorated by mood-setting candles. Bonus points if you (learn to) make their favorite dish. 
2. A trip
A surprise getaway is sure to please the most spontaneous of partners. It's a great way to make new memories and enjoy total quality time together. It can be as low-key as a weekend trip to nearby wineries or visiting a new city you two have always wanted to go to. The possibilities are endless but a guaranteed good time.
3. A thrilling experience
Adrenaline-pumping, anxiety-ridden and novel moments are scientifically proven to lead to more sexual attraction. Sign you and your partner up for an adventurous event that you two wouldn't normally do such as bungee jumping or sky-diving — and get ready to reap the romantic benefits.
4. Personalized keychains
If you want something a little more tangible than a trip without breaking the bank, try custom keychains, which are a little more practical than most jewelry. The online marketplace Etsy has a slew of options to choose from, so that you can choose the perfect style for you and your partner. Now you two will think of each other every time you get home from a long day at work. 
5. LoveBook
For a totally unique and sentimental present, turn your love story into one in a literal sense. With LoveBook, you can choose the cover and title, customize the characters and write out how you guys met or another memory you wish to materialize. The book is professionally bound and for long-distance couples, can be shipped to anywhere in the world.
6. Polaroid camera
This gift revolves around capturing the future moments the two of you will make together, but in the most stylish way possible.