Watch This 13-Year-Old Take a Stand Against Cyberbullying in This Powerful Short Film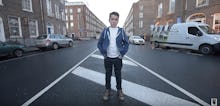 While most 13-year-olds would wither in the face of bullying — and rightfully so — budding activist, vlogger and filmmaker Luke Culhane is striking back against cyberbullying with a powerful new video.
The video posted to YouTube on Monday, "Create No Hate," shows the boy from Limerick, Ireland, fielding nasty messages on his phone and computer. Each new abuse corresponds with a physical injury — a bloody nose, a black eye — suggesting the emotional toll it takes is no less damaging than that of a physical trauma.
"I have been cyberbullied myself, so that inspired me to make this video to help raise awareness for other people about how to handle cyberbullying," Culhane told local outlet I Love Limerick. "I wanted to show that it doesn't have to be physical bullying to hurt someone, so that's why I showed the likeness between the two types of bullying."
Not just an artistic effort, the video is a siren call to anyone who identifies with it, offering a three-word mantra to address the issue: 
"Stop. Block. Tell."
"Everybody has a part to play to stop this needless behavior online," Culhane says into the camera. "Cyberbullying is not OK. Nobody deserves it, and we can all help to put an end to it for good."
Cyberbullying — virtually a nonexistent problem a generation ago — has become a concern in schools around the developed world. Over the last decade, the phenomena has become increasingly linked to suicide ideation. In 2014 more than half of all adolescents reported that they had been cyberbullied at least once, with a quarter saying they had faced repeated harassment either on their phones or the internet, according to the advocacy group NoBullying.com. 
Read More: This 15-Year-Old British Girl Just Schooled the World on Islam and Islamophobia
Culhane's project launched in observance of Tuesday's Safer Internet Day, an initiative in the EU that asks citizens to "play your part for a better internet." 
At least one kid is doing just that.