Is Ed Sheeran Irish? Here's Everything To Know About the Musician's Origins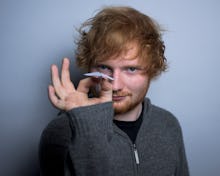 Drew Gurian/AP
Ed Sheeran may have been born in Halifax, West Yorkshire, but his family lineage is deeply rooted in Ireland. The musician burst onto the scene with works such as his No. 5 Collaborations Project EP and his debut album +, both released in 2011 and contributed to his almost-immediate rise to fame. 
Despite his fame, he hasn't forgotten where he's from. In fact, Sheeran even recorded a special version of "Thinking Out Loud" to be released exclusively for Irish schoolchildren, as he recorded it in the Irish native language Gaeilge. 
"Getting Ed Sheeran to record a bespoke version of one of the biggest songs in the world is incredible," radio presenter Eoghan McDermott told UTV Ireland. "The fact he is singing as Gaeilge makes it all the better! Ed and the host of other incredible musicians on our CD shows that the use of the Irish language is being revolutionized at the moment, particularly in music."
Read more:
Sheeran had shown a keen interest in music ever since he was a child, and was even told by musician Damien Rice to begin writing his own music at age 11, according to Biography.com. 
Sheeran technically released his first EP, titled The Orange Room, at age 14, but found true success in the music business after moving to London as a teenager, where he began recording multiple albums and writing songs for other musicians. It was in 2010 when his career was slung into an upward trajectory. 
Singer and rapper Example brought Sheeran on the road for a tour with him after his viral videos began catching the attention of music industry insiders, and Sheeran released new EPs throughout 2010. He broke into the U.S. media circuit shortly after, appearing on Jamie Foxx's Sirius XM radio show and releasing No. 5 Collaborations Project in January 2011. 
The rest is pop culture history.