Is Justin Bieber Writing New Songs? Here's What We Know About Artist's Plan for New Music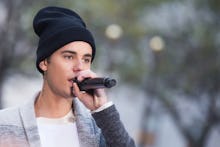 Charles Sykes/AP
Canada's own Justin Bieber released his fourth studio album, Purpose, on Nov. 13, 2015, and the 21-year-old is gearing up for a world tour of the same name in support of the release. Yet, nearly three months after Bieber brought us Purpose, some fans are already curious to know if the singer/songwriter is crafting new material. Here's what we know.
Bieber's already had a solid start to 2016. On Jan. 15, the "Sorry" hit maker made available a previously unreleased track, "I'll Be There" — a nod to the king of pop? Though the track's debut could indicate that Bieber's writing new music, it's unclear whether the song was recently written or if it was simply unreleased until now.
Read more: 
Yet perhaps the biggest indicator that Bieber's not hitting pause on music-making in the wake of his latest release came in the form of track snippets, which the artist recorded and shared to his Instagram account in January. It appears that the clips, which number three and which Bieber left uncaptioned, seemingly makeup a single track, the title of which is unknown.
Arguably, if Bieber is posting clips of unreleased material, it's fairly safe to assume the artist is still ideating and writing music. But a key hindrance to the creative process may be just around the corner for Bieber, whose schedule is about to be inundated with tour dates. Bieber's Purpose World Tour kicks off with a show in Seattle, Washington, on March 9 and continues through July 19 with a high volume of concert dates across the U.S. and Canada. In fact, a look at Bieber's tour dates shows that the artist will be performing many consecutive days, with no more than a few days of rest between each North American tour date. 
And on Sep. 8, Bieber will cross international waters to perform in Iceland, and will continue with an aggressive trek across Europe until Nov. 29. For a full list of tour dates and ticket purchase options, head here. 
It remains to be seen whether Bieber's busy schedule will keep him from crafting new tracks, but super fans would be well advised to keep an eye on the singer's online presence. If past is prologue, Bieber will likely publish any early previews of songs on social media.
In the meantime, fans can catch Bieber in action during the 58th annual Grammy Awards show, which CBS will air live on Monday at 8 p.m. Eastern.