DMX Nearly Dies in Hotel Parking Lot in New York After Alleged Overdose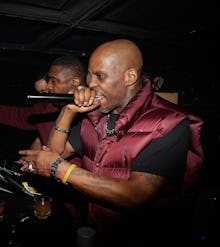 Shareif Ziyadat/Getty Images
Rapper DMX was found not breathing and without a pulse in the parking lot of a Ramada Inn in Yonkers, New York, on Monday, according to TMZ. 
The celebrity gossip site claimed that the "signs point to an overdose," after a witness on scene told cops that the 45-year-old rapper, whose real name is Earl Simmons, had ingested some sort of powder before falling unconscious. Police officers resuscitated DMX by performing CPR.
The rapper was found unconscious on the ground near a parked car, where he was administered Narcan on site, an antidote that is used to treat overdoses in an emergency. 
Read more:
According to TMZ, DMX has stated that he was not taking any drugs or powder. The rapper said he only remembers being short of breath, having recently suffered from bronchitis. DMX's representatives have told news sources that he had an asthma attack.
DMX was rushed to the hospital, where TMZ reported he's stable condition. 
A superstar in the early 2000s, his debut studio album It's Dark and Hell Is Hot sold 251,000 copies in the first week. The album debuted at No. 1 on the Billboard 200 chart in the United States, and is widely regarded as a hip-hop classic. 
DMX, who starred alongside the late singer Aaliyah and actor Jet Li in the 2000 film Romeo Must Die, has faced multiple arrests and jail time for prior offenses which include animal cruelty, reckless driving, unlicensed driving and drug possession.
In July, the Cradle 2 The Grave star was sentenced to six months in prison in New York for failing to pay child support; DMX is the father of 12 children. A New York City Sheriff's Office spokesman told PIX11 that the artist owed $400,000 in unpaid child support at the time of his arrest.