Here's How to Use the Vine App and Not Look Like a Total Rookie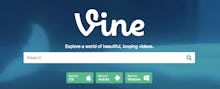 Mic/Vine
Vine is one of the fastest-moving social media platforms on the web. Users of the app are afforded six precious seconds to convey a message to fans and followers. However, it's also one of the most popular apps year after year, with 100 million people watching short videos on the app each month, according to TechCrunch. Here's how to use Vine and not look like a total rookie. 
Shooting a Vine video and getting it uploaded to the app is pretty simple. After setting up an account on Vine — you can establish a profile by connecting your Twitter account, or go the conventional way of using an email — you will be given a list of options for topics you'd like to see videos of. These include trending events like Super Bowl 50, as well as general subjects like comedy, music, gaming, weird, art and food. 
Read more: 
After choosing what videos you'd like to see on your Vine feed, you're then given the options to search for specific users, either through the app's curated suggestions, your device's contacts list or through the Twitter account you may have paired. 
On the app's homepage, users are offered four options to choose from at the bottom of the page. One can explore their relevant activity, check their profile, explore new Vines from other users, record one of their own six-second videos or, of course, return home. Vine Messages, a chat functionality for Vine users only, is available at the top right portion of the screen, and new contacts can be added by tapping the symbol of a person on the top left. 
When it's time to shoot your very first Vine video, fear not — the app offers a tutorial for first-timers, available when you tap on the green recording button located in the middle of the tools at the bottom of the app. It's rather easy — hold your thumb on the screen while recording video (it doesn't matter where you touch, so long as you don't X out) — and stop whenever you'd like to pause recording. You can begin recording and stop whenever you'd like: just as long as the full video fits in the six-second time frame. 
There are certain editing tools which can be used after recording a video, including the ability to add music and trimming the length of your full video. When the final version of your masterpiece is ready for the world to see, click "Next," and you'll be given the chance to add your Vine to a specific topic, or channel, as well as share with specific friends or on other social media feeds. 
Further build your profile on Vine by promoting it across your other social media profiles. In no time, you'll be a vine superstar, just like this guy: