"The Bachelor" Encompasses Everything That's Right — and Wrong — With Female Friendship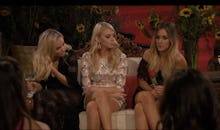 "We raise girls to see each other as competitors, not for jobs or accomplishments, which I think can be a good thing, but for the attention of men," author Chimamanda Ngozi Adichie observed in the famous TED talk "We Should All Be Feminists."
There is no setting where this is more apparent than ABC's The Bachelor.
With 25 women competing for the affections of one man, catfights form the backbone of the reality show's drama. The women spend each episode scrambling over the coveted roses the Bachelor hands out, accusing one another of being "there for the wrong reasons" and declaring that they're "not here to make friends."
During last night's episode, the women celebrated Bachelor Ben Higgins' decision to say goodbye to Olivia Caridi, whom they'd been complaining about for weeks. As 22-year-old "twin" (no, really, that's her listed profession) Emily Ferguson said last week, she wanted to "punch [Olivia] in the face a little" for stealing Ben's attention, jokingly wielding a knife as she vented to the camera about the 23-year-old news anchor.
Olivia herself wasn't exactly there to make friends either, telling esthetician and single mom Amanda Stanton that she reminded her of "an episode of Teen Mom."
These are the scenes that the show's producers play up in previews. But if you've been following The Bachelor, The Bachelorette, or Bachelor in Paradise, you've probably noticed another, very different undercurrent running through the show's storyline — one that presents a far more nuanced view of female friendship and of women in general.
During the Jan. 25 episode, for instance, when Ben sent Emily's twin Haley home, both sisters cried. "Rejection isn't easy," said Haley. "But more importantly, I'm happy that Emily gets to continue this journey, even if it's alone."
"I'm just sad, because I knew this was going to happen at one point. I just wasn't expecting it to be today," Emily said of her sister's parting.
This wasn't the first time a Bachelor woman grieved the loss of a fellow contestant. Back in 2013, Catherine Giudici, who later married Bachelor Sean Lowe, cried after Sean eliminated Lesley Murphy. Catherine got close with Lesley on The Bachelor and later traveled with her and included her in her wedding party. 
"Catherine and I are best friends from the show, and we will be best friends forever," Murphy told Reality TV World. "I think nobody really gets it. Going through this process is really intense and it's just crazy. And to make a friend in that environment is a really strong bond."
In fact, many of the biggest Bachelor Nation love stories have been between the women. Ashley Hebert and Ashley Spivey were attached at the hip when they competed for Brad Womack's heart on Season 15, sleeping in the same bed with Hebert's stuffed bear for comfort. After her exit, Spivey told Wetpaint, "I was more in love with Ashley H. than Brad." Since then, Spivey has been spotted waiting at the altar as Hebert's bridesmaid, chatting with her at her baby shower and holding her son.
Season 19 contestants Jade Roper and Carly Waddell also found longer-lasting love with each other than with the man they were competing over. The women reunited on Bachelor in Paradise, where they gave each other advice on their budding relationships. After Carly broke up with her Paradise boyfriend Kirk, Jade was the first to comfort her and tell Kirk to respect her decision. Both moved to Nashville afterward, and they continue to post photos of themselves hanging out on Instagram. Carly's Twitter bio even mentions Jade, calling her "the Selena to my T-Swift."
The female contestants have become not only close friends, but also allies against men who mistreat them. When Jesse Kovacs cheated on Christy Hansen and bragged about it to the other men on Bachelor in Paradise, fellow contestants Michelle Money and Lacey Faddoul followed Jesse out to stand up for Christy. (Money even yelled "girl power" before the three broke into Jesse's limo to tell him off.)
Similarly, season 17 contestants united on the "Women Tell All" episode to condemn Juan Pablo Galavis's attempts to slut-shame Clare Crawley for hooking up with him early in the season. Even though Clare was a favorite of Juan Pablo's and sparked envy among competitors, several women defended her choice, saying he was unfair to blame her for their tryst.
Like the patriarchy itself, The Bachelor pits women against one another. But the common oppression women face in real life can make them one another's greatest support system, and that's also the case on The Bachelor.  Both on the show and in real life, women can choose either to throw one another under the bus or to commiserate and lean on one another.
The Bachelor makes it clear that friendships among women can be backstabbing and competitive. But it also shows how they can be powerful and redemptive, even — perhaps especially — in the most hostile circumstances. The same system that makes women enemies can also bind them together as allies. And no matter how much patriarchy and the media set women up for mutual contempt, female friendships always manage to provide an escape from this trap.