Is Adele Married? Latest on Simon Konecki and the Men Who Inspired Singer's Music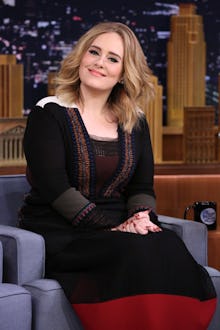 NBC/Getty Images
Superstar singer Adele is notorious for pouring her personal life into her albums — her albums 19 and 21 are both inspired by breakups, and she has described her latest album, 25, as a "make-up" album. So who, exactly, are the real-life inspirations behind Adele's music? Here's everything we know about the mysterious men behind Adele's heartbreak, and her current love life.
Currently, Adele is with long-time boyfriend (but not husband) Simon Konecki, who is also the father of son Angelo, born in 2012. "Being in such an amazing relationship with someone that's so there for me and so loyal and is really part of my core now, that's what made me write about everything I've ever done, because I've got his love," Adele told 60 Minutes Australia. So Adele isn't married, as far as anyone knows, but she's clearly happy and in love — something that wasn't always the case, as the singer has been quick to share.
Read more:
London native Adele Laurie Blue Adkins had just graduated from a performing arts high school when she signed with her first record label, according to Rolling Stone. Her debut album, 2008's 19, was inspired, in part, by a breakup with her teenage love. 
"19 is a breakup record," she told Blogcritics in 2008. "It's more pop than anything — more popular in commercial than contemporary — but the album is actually from my soul. It took a lot from me to write the album. Instead of going off and asking people to write songs for me, I kind of put my head down and tried my hardest to admit things to myself and to put it into songs. It's a heartbroken soul — it's a breakup record from the very bottom of my soul, as cheesy as that sounds."
The ex-boyfriend who inspired 19 is still a bit of a mystery, but he allegedly tried to sue Adele for a cut of the profits from the album.
Adele's next album, 2011's 21, was inspired by another heartbreak. The man behind the music, or "Mr. 21," was 10 years Adele's senior, according to a 2011 Rolling Stone interview. "He made me an adult. He put me on the road that I'm traveling on," she told the magazine, speaking about the relationship. 
But eventually, she told Rolling Stone, "It just stopped being fun ... We'd just bicker over a cup of tea or the fact that my lighter wasn't working."
A year later, in a interview with Vogue, Adele reflected on the lessons she took away from the man who inspired 21. "You know, he was amazing. He was great. But it was never going to work ... If I hadn't met him, I think I'd still be that little girl I was when I was 18. And the best thing is, I now know what I want for myself and from someone else. I didn't know what I wanted before."
By the time of that 2012 Vogue interview, Adele was already dating her current partner, philanthropist Simon Konecki. "He's wonderful," she told Vogue. "And he's proud of me, but he don't care about what I do or what other people think. He looks after me."
In October 2012, Adele gave birth to her first child with Konecki, son Angelo. Adele's latest album, 25, released back in November, represents a thematic departure from her first two albums — and perhaps a happier Adele.
"Becoming a parent and moving past my mid-20s, I simply don't have the capacity to worry about as many things that I used to really enjoy worrying about," Adele told i-D in October, just before the release of 25. 
"I was very conscious not to make 21 again," she told i-D. I definitely wasn't going to write a heartbreak record 'cause I'm not heartbroken, but I probably won't be able to better the one I did, so what's the point?"
If 21's "Someone Like You" is about pain and loss, 21's "Hello" is about making amends and moving on. "So 'Hello' is about wanting to be at home and wanting to reach out to everyone I've ever hurt — including myself — and apologize for it." she told i-D. 
"No, it's not about anyone specifically," she added in the interview.