Is Justin Bieber Dead? This Site Has the Internet Constantly Calling Wolf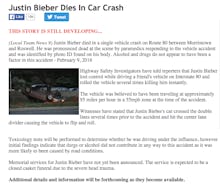 Mic/justin.bieber.serverswell.com
Short answer: No, at least not at time of writing. If Justin Bieber had died, the question wouldn't be worth asking. We would all know. But the rumor mill never stops turning, drawing water from the river of gossip that is J. Biebs and propagating false news of his tragic demise. 
In 2010, the Canadian singer's death had been reported five times before six months were up, consistently fueled by internet hoaxes, according to Amoeba Music. It prompted him to tweet a clarification to his fans.
Read more:
"Im not dead," he said. "I had to check on this one...but it turns out Im alive." Alive and entirely unbound by the constraints of standard punctuation. 
The apparent source of all this drama? justin.bieber.serverswell.com, provided by celebrity hoax generator Fakea which reported Tuesday that Bieber had died in a car crash. Having lost control of his vehicle, the site says, he flipped it while traveling at approximately 95 miles per hour. "He was killed instantly," according to the site.
"He was pronounced dead at the scene by paramedics responding to the vehicle accident and was identified by photo ID found on his body," the report reads. "Alcohol and drugs do not appear to have been a factor in this accident."
We say "reads" because, on any given day, the faux news site features exactly the same story with only the date updated. On Dec. 30, for example, the International Business Times reported on the rumor, citing the same website "looks like a fake news site." 
And yet the internet still takes the bait. On Jan. 8, 2014, the site appears to have been responsible for the circulation of a contentious tweet that left Beliebers in emotional shambles. "R.I.P. Justin Bieber, died crashing his Ferrari going 125 miles per hour. He is too young to go," it read. The car and its speed were new, but the basic premise remained the same. 
The death-by-car-crash rumor also surfaced in February 2013, this time in video form because variety is the spice of life, as the adage goes. That year, justin.bieber.serverswell.com was up and running, possibly the reason why the young pop star's death was reported roughly every two weeks in 2013. 
That the internet continues to bite is unfortunate for a number of reasons, chief among them the fact that Bieber will die eventually and when that day comes, it's quite possible that his death will be dismissed as another hoax. It will be too late to say sorry. 
So before passing along unfounded news of his death, check the wording. Was he killed instantly? After losing control of and flipping his vehicle on Interstate 80 between Morristown and Roswell? Was his body identified by the photo ID found on his person? Was he traveling at 95 miles per hour? If so, it's overwhelmingly likely that the report is a hoax. Disregard it.