A Powerful Instagram Account Is Combatting Mental Health Stigma With Personal Stories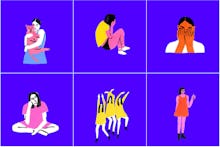 When it comes to dealing with mental health issues, lots of people just need to be reminded that they are not alone in their struggles. That's where a new Instagram account comes in.
The account is called Let's Talk About Mental Health, and it's part of 12 Kinds of Kindness, a project led by New York City designers Jessica Walsh and Timothy Goodman. Most posts feature either an illustration or a short quote from someone with a story to tell about their mental health journey.
"Writing down my own story has been incredibly empowering and freeing," Walsh writes on the website for the project. 
"Since I've started talking openly about my issues with people around me, I've been surprised to find just how common mental health issues are. Friends and colleagues who often lead seemingly perfect or successful lives, even those in prominent positions within the creative industry have come forward and shared their stories. This has inspired me to start a website to collect these stories."
(Mic has reached out to Walsh for further comment and will update if we hear back.)
There is a large potential audience for a project like this. According to the National Institute of Mental Health, 40 million adults in the United States (or 18.1% of the adult population) report experiencing some form of anxiety disorder within a 12-month period. Meanwhile, depression is estimated to affect 14.8 million American adults (or 6.7% of the adult population) per year.
"One in four people in the world will be affected by mental or neurological disorders at some point in their lives," the World Health Organization reports. "Around 450 million people currently suffer from such conditions, placing mental disorders among the leading causes of ill-health and disability worldwide."
From Pinterest to Tumblr (especially Tumblr) to Twitter, there seems to be a rising demand for raw and honest sharing of stories involving other peoples' experiences dealing with their mental health.
"[T]here is still so much stigma around mental illness in society," Walsh continued on her website for Let's Talk About Mental Health.
"Like many others, I almost died as a result of these stigmas. I was afraid to tell anyone what I was going through, and suffered in silence until it was almost too late. I hope in our generation we can move towards ending the stigma and shame around mental health issues, and I hope to contribute to this movement even if it's in a small way."
Check out more posts from the Instagram account here.
h/t BuzzFeed