Are Fish Oil Pills Good for You? Here's What to Know About the Possible Benefits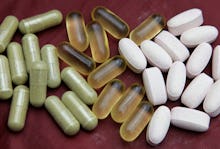 Eric Risberg/AP
Fish oil pills have become a popular supplement for many across the nation. Americans spend nearly $1.2 billion annually for fish oil pills and related supplements, according to the Washington Post. Fish oil pills and supplements contain omega-3 fatty acids, a group of polyunsaturated fatty acids that can be found in certain types of fish and shellfish.
"I believe that fish oil is helpful. It promotes a stronger immune system, better cardiovascular health, less inflammation, healthier joints, improved vision, a more robust metabolism and healthy weight management," Dr. Frank Lipman, founder of the Eleven Eleven Wellness Center in New York City told Yahoo News. "Fish oil has also been shown to improve skin, hair, and nails, as well as cognitive functions like your thinking power, attention, mood and memory."
But a huge inconsistency in whether or not fish oil pills are actually effective remains. The majority of research regarding fish oil pills has provided very little evidence that the supplements are effective at all.
Read more:
The National Center for Complementary and Integrative Health lists the health benefits of fish pill dietary supplements as "unclear." Even though no research has been fully backed yet, supporters of fish oil pills claim that the supplement can help improve the health of the heart and is important for brain development.  
Professor of Medicine at Harvard Medical School JoAnn E. Manson told the Washington Post that although omega-3s could potentially protect against heart disease, the evidence that the fish oil pills helps in any tangible way is sorely lacking. "It's amazing how popular the fish oil supplements have become without conclusive evidence of their efficacy," Manson told the Post.
Research shows that omega-3 fatty acids can decrease triglyceride levels which reduce your risk for heart disease, decrease risk of abnormal heartbeats, and can lower blood pressure some. However, the jury is still out on whether or not the pills are doing anything at all. Some studies have shown that levels of omega-3 fatty acids actually found in fish oils is significantly lower than what's stated on the label.
The American Heart Association recommends eating fatty fish, like salmon, trout or tuna, at least twice a week.