The Weeknd: Here's the Mixtape That Really Launched the Weeknd's Career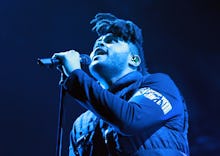 Robb D. Cohen/AP
The Weeknd, the Canadian artist who made waves with his performance at the 2015 MTV Video Music Awards and the Grammy Award-nominated album Beauty Behind the Madness, has recently received seven nominations for the 2016 iHeartRadio Music Awards. But hardcore fans remember when Abel Tesfaye was an anonymous YouTube artist. 
According to Tech Insider, the artist uploaded three songs to YouTube in 2011 using the username "xoxxxoooxo." Fans didn't even know who he was at that point; the Weeknd provided no identifying information on the account. "If you haven't heard much about the Weeknd, it's because there isn't much info out there on them — that is, if the mysterious project affiliated with Canadian multimedia collective XO is a 'them' and not just a 'him' or 'her,' a Pitchfork review of "What You Need," one of the Weeknd's early songs, read. 
Read more:
The Weeknd was unknown to much of the world before fellow Canadian and artist Drake co-signed his debut mixtape, House of Balloons. With Drake's endorsement and the Weeknd's hazy and atmospheric sound, the mixtape launched the Toronto-bred artist's career into the global spotlight. 
House of Balloons, which Complex named the "best album of 2011," was a nine-track project released on the Weeknd's official website for free in March 2011. The mixtape was composed primarily by Canadian producers Doc McKinney and Illangelo, according to Complex; Noah "40" Shebib and Drake, who recently teamed up for the new track, "Summer Sixteen," also had a role in the Weeknd's success. 
"What makes this whole thing work in an album context is that all the thematic and sonic pieces fit together," Pitchfork's Joe Colly writes. "These weird, morning-after tales of lust, hurt and over-indulgence ("Bring the drugs, baby, I can bring my pain," goes one refrain) are matched by this incredibly lush, downcast music."
The Weeknd made his splash in the global hip-hop/R&B scene with "What You Need" and "Wicked Games" weeks before dropping the mixtape. "The record has gotten rave reviews for its dark, atmospheric sounds and its unique mix of R&B, hip-hop and indie rock elements," Insanul Ahmed wrote for Complex in 2011.
The 58th Grammy Awards, hosted by LL Cool J, will feature the Weeknd's debut Grammy performance. The Grammy Awards will air on CBS at 8 p.m. EST Feb. 15 from Los Angeles. 
The Weeknd was nominated for record of the year, album of the year, best pop solo performance, best R&B performance, best R&B song, best song written for visual media and best urban contemporary album.